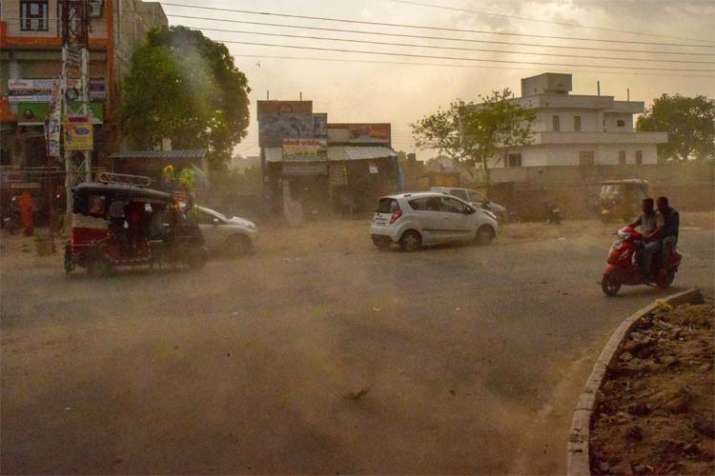 Uttarakhand, Jammu and Kashmir and Himachal Pradesh are likely to be hit by thunderstorm accompanied with squall, while parts of Rajasthan might see dust storm over the next two days, the IMD said today. 
Thunderstorm over these hill-states states and its subsequent effect on plains in north Indian is due to a new western disturbance from Sunday. 
Western disturbance originates in the Mediterranean Sea that brings sudden rains to northwestern parts of India. 
Thunderstorm accompanied with squall with wind speed reaching 50-70 kilometres per hour are "very likely" at isolated places over east Uttar Pradesh, Assam, Meghalaya, Nagaland, Manipur, Mizoram, Tripura, Gangetic West Bengal, Odisha and Jharkhand, it said. 
"Thunderstorm accompanied with gusty winds also very likely at isolated places over Punjab, Haryana, Chandigarh, Delhi, west Uttar Pradesh, Vidharbha, Chhattisgarh, Bihar, Telangana, north coastal Andhra Pradesh, south interior Karnataka, Tamil Nadu, Puducherry, Lakshadweep and Kerala," an Indian Meteorological Department (IMD) advisory said. 
Heat wave conditions are very likely at one or two pockets over Rajasthan, west Madhya Pradesh and Vidharbha.
 
Several states in north India have witnessed erratic weather pattern over the fortnight. Uttar Pradesh and Rajasthan have alone witnessed over 120 deaths due to thunderstorm and violent winds in the first week of May.
In Uttar Pradesh, the wind speed may reach up to 50 to 70 kilometres per hour. 
In its forecast, the department said rain and thunderstorm are very likely at a few places over western Uttar Pradesh and at many places over eastern parts of the state. 
Thunderstorm accompanied with squall is very likely in parts of the state between 8.30 am on Sunday and 8.30 am the day after, it said. 
Several parts of the state were hit by severe storm this week leaving 18 dead and 27 others injured. On Wesnesday, five people died in Etawah district, three each in Mathura, Aligarh and Agra, two in Firozabad and one each in Hathras and Kanpur Dehat. 
Last week, storm had killed 134 people and injured over 400 in five states. Uttar Pradesh was the worst affected, accounting for 80 deaths, most of them in Agra district in western part. 
(With PTI inputs)