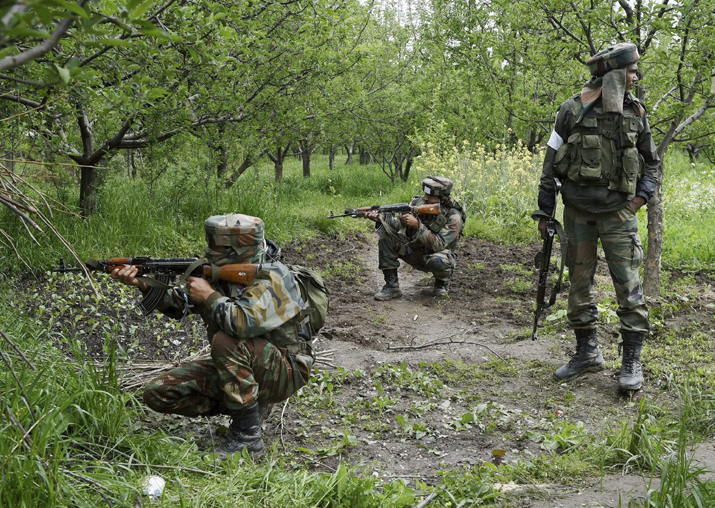 In a major breakthrough, security forces in Jammu and Kashmir have managed to arrest three terrorists during an ongoing gunfight in Kulgam district.
Inspector General of Police Muneer Khan said that all three are local terrorists and that they were radicalised. 
He added that one jawan was martyred and also a terrorist identified as Muzamil was killed on the first day of the operation which is still underway.
"In the ongoing operation against terrorists in Kund area, we have arrested three local terrorists," Khan said.
The three terrorists have been identified as Atta Muhammad Malik, Shamshul Waqr and Bilal Sheikh. 
According to Muneer, Malik was caught in an injured condition. He was immediately rushed to a hospital where his condition is said to be stable now.
"Malik (a local militant) was injured during the encounter at Kund on November 14, and he was on the verge of dying. But our jawans, who had lost a colleague during the operation, rescued him and took him to a hospital. His rescue shows our commitment to the offer of surrender," Khan said.
Khan said the security forces had launched the joint operation in Kund on Tuesday after intelligence inputs about the presence of a big group of terrorists of the Lashkar-e-Taiba and Hizbul Mujahideen there.
Muneer reiterated that security forces would take all steps to help 'local militants' in Kashmir return to a normal life, even if they surrender during an encounter.
"We stand by our commitment to local militants that they can surrender at any time, even during an encounter, and return to lead a normal life after facing the law," he said.
The statement of the official comes as the Jammu and Kashmir police prepares its recommendations for a comprehensive rehabilitation policy for surrendering militants.
The IGP claimed that the police had brought back many youths, who were on their way to join militants, into mainstream. 
Several of them arrested from Kupwara while on their way to get arms training, he said.
Replying to a question, he said that it is a point of discussion on what was the driving force or lure behind youths joining militants.
"Most of them, you will find, are college or school dropouts. There is a relentless social media campaign by Pakistan to lure the youth also," Khan said.
The officer said that the youth in the age group of 15 years to 25 years were vulnerable to be exploited as they find it hard to differentiate between right and wrong.
Khan added that a search operation in Kund area was still on as there were intelligence reports about two militants there. The operation at Kund was jointly launched by the police, Army and CRPF. This operation was started on November 14 based on specific information about a big group of terrorists, a joint group of Lashkar-e-Toiba and Hizbul Mujahideen.
Earlier this month, the Army had claimed that around 80 terrorists have been killed in south Kashmir in the past six months and around 115 ultras are still active in the region, of whom over a dozen were foreign terrorists.