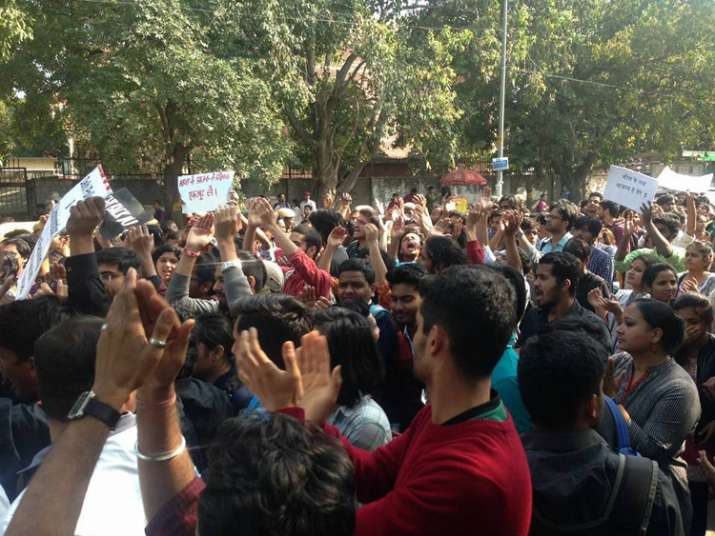 Hundreds of students on Thursday protested outside the Delhi Police headquarters, a day after alleged attack by RSS-backed ABVP on students of rival group at the Ramjas College. 
Ramjas College had turned into a battleground yesterday as students of Left-affiliated All India Students Association (AISA) and the Akhil Bhartiya Vidyarthi Parishad (ABVP) armed with hockey sticks rained blows on each other. 
The clashes left several injured, including cops and journalists. 
The genesis of the clash was an invite to JNU students Umar Khalid, facing sedition charge, and Shehla Rashid to address a seminar on 'Culture of Protests' which was withdrawn by the college authorities following opposition by the ABVP. 
The two-day event on Tuesday and Wednesday was cancelled after ABVP forced the organisers to withdraw the invite to Khalid, dubbing him "anti-national". In protest, AISA organised a march from Ramjas College to Maurice Nagar police station, which was allegedly attacked by members of ABVP. 
On Thursday, classes remained suspended at the college since morning even as the authorities claimed it was due to "administrative reasons" and not because of the tense situation. 
While students of JNU and DU who are members of AISA staged a protest at the Delhi Police Headquarters at ITO, the Congress' student wing National Students Union of India took out a peace march to Maurice Nagar police station. 
Khalid, who gave a miss to protests yesterday and the day before, joined the protesters at ITO in raising slogans of "ABVP se azaadi" and demanding registration of an FIR against them. 
"Only a few would have heard me had I spoken at Ramjas. Now, the whole country is hearing me. The Delhi Police has not been able to file a charge sheet against me and they say I am an anti-national and I have links with terrorist groups," Khalid told protesters. 
A huge posse of police personnel was deployed on the north campus in the wake of the situation prevailing since yesterday even as DU Vice Chancellor Yogesh Tyagi urged the students not to resort to violence. 
"People and students should not lose their cool and maintain peace on the campus. Violence of any kind should be avoided. It will neither offer any solution nor lead to anything positive. The proctor office will look into the matter," he said. 
Members of NSUI marched toward Maurice Nagar police station chanting "Raghupati Raghav Raj Ram" as they condemned violent action by the ABVP. 
"We have not called for a protest. We believe in non- violence and stand for freedom of speech and expression. We request everyone not to politicise the matter," NSUI president Amrita Dhawan said. 
Around 50 members of the Akhil Bhartiya Vidyarthi Parishad also gathered outside the Arts faculty at North Campus and reiterated they will not allow "any repeat of JNU like events" in the university. 
"They are anti-nationals. They disrespect the tricolor and Bharat Mata and engage in such kind of activities. We will not allow any repeat of JNU like events in Delhi University," President of Delhi University Students Union Amit Tanwar said. 
A few policemen and journalists were also roughed up yesterday during the violence after students from DU colleges and JNU gathered outside Ramjas College to hold a protest march against ABVP's threat to call off the seminar. 
They were demanding action against the ABVP members, who had allegedly heckled and thrown stones at students gathered for a seminar at a conference hall where Umar Khalid was invited to speak. 
Before the march could take off, ABVP members reached the spot and clashed with the demonstrators despite heavy police deployment.
(With agencies)