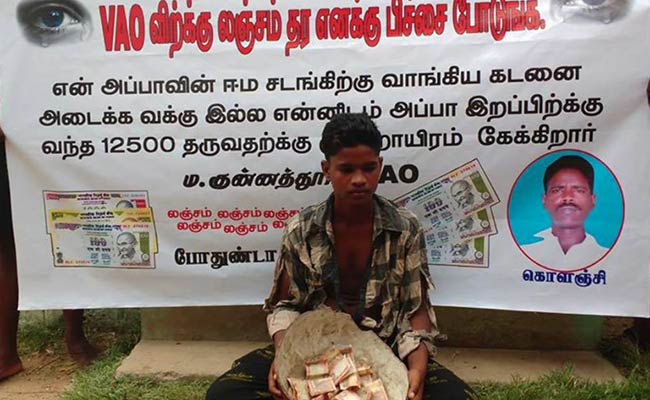 Bringing shame to the Villupuram district administration of Tamil Nadu, a 15-year-old boy has been forced to beg to pay off debts incurred in performing the last rites of his father's death. 
According to a NDTV report, Kolanji, a 45-year-old farmer of M Kunnathoor village in died in February last year. The family took a loan to perform the last rights of Kolanji which they have not been able to repay. 
The family was eagerly waiting for the compensation of Rs 12,500 under farmer's social security scheme so they could repay the loan. Kolanji's minor son Ajit had to wait for as long as 18 months for his turn to collect the compensation. However, he was asked by the village administrative officer to pay off a bribe of Rs 3,000 in order to get the cheque. 
Since Ajit could not arrange the money, he created a banner asking for help to collect money to pay the bribe. 
The banner, written in Tamil, reads that he is no position to repay the money borrowed for his father's last rites and he has been asked to pay a bribe of Rs 3,000 by the village administrative officer in order to get the compensation of Rs 12,500 that his family was entitled to get under the government scheme. 
Taking along the bnner with him, the 15-year-old Ajit started begging inside buses and other public places in order to collect the money. 
Embarrassed by the incident, the district administration ordered a probe on Saturday. 
Meanwhile, VAO Subramanian, the village administrative officer, has been relieved from his post pending enquiry. 
Revenue Division Officer (RDO)  Senthamarai said the officer has denied the charge of demanding bribe. 
"The cheque was prepared in the name of Vijaya, wife of Kolanji, and they could not hand over the cheque to Son Ajit since he is a minor. We are now making an electronic transfer of the amount to the mother's bank account in Mumbai on Monday," he was quoted as saying by the NDTV.