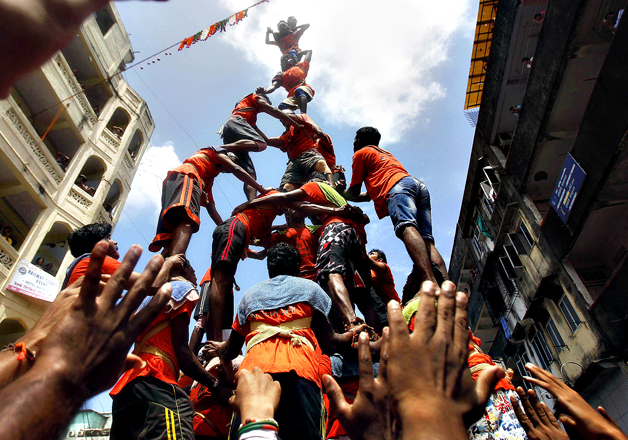 The Supreme Court today rejected a last ditch attempt by an organisation to get over the restrictions imposed by the top court during the Dahi Handi festival on the occasion of Krishna Janmashtami.
Declining the plea by a Dahi Handi trust seeking modification of an August 17 order, a bench of Justice Anil R. Dave, Justice Uday Umesh Lalit and Justice L. Nageswara Rao said that the "human pyramids can't go beyond 20 feet during the festival".
"In the last hearing we have asked the state how it was going to regulate the large number of Dahi Handi events in Mumbai and rest of Maharashtra," the bench observed.
As senior counsel Rajiv Dutta appearing for the applicant, Yougeshwari Trust, sought to assure the bench on the safety of the participants in the human pyramid, the bench observed, "You can't give assurance (on safety) on behalf of all the 1,500 sansathans organising Dahi Handi festival."
The Supreme Court had on August 17 ordered that nobody under the age of 18 will be allowed to participate in human pyramid formation in the Dahi Handi festival.
The decision came as the court restored the 2014 petition by some 'Dahi Handi' organisers challenging the Bombay High Court order holding that youngsters below the age of 18 would not participate in the human pyramid formation and the same too would not be more than 20 feet.
The High Court had also issued directions on the framing of rules or amending the circular, which the top court had put on hold saying it would hold hearing on the entire matter in October.
It was on the public interest litigation of Patil -- secretary of NGO Utkarsh Mahila Samajik Sanstha -- that the High Court had passed a number of directions on August 11, 2014, which were put on hold by the apex court three days later.
The Maharashtra government had approached the apex court to seek clarification on its 2014 order after the Bombay High Court asked it to do so in the wake of a contempt petition filed by Patil for the violation of its August 11, 2014, order.