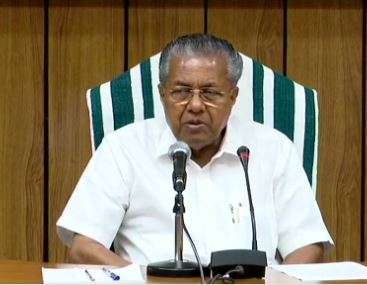 In protest against the entry of two women of menstruating age into the Sabarimala temple of Lord Ayyappa, a dawn-to-dusk 12-hour hartal called by Hindu outfits began on Thursday morning. Protests erupted at many places in Kerala as the news of the women entering the temple spread. Right-wing activists blocked highways and forced closure of shops and markets. The Bharatiya Janata Party (BJP) and Yuva Morcha activists allegedly attacked media personnel who were reporting from outside the state secretariat.
On behalf of the Sabarimala Karma Samiti Samiti, its leader K P Sasikala announced shutdown from dawn-to-dusk. The Samiti urged people to cooperate with them in their protest. It is spearheading protests against the Supreme Court's September 28 verdict allowing women of all age groups to offer prayers at the hill shrine. Sasikala said the protests would continue till Pinarayi Vijayan resigns as chief minister. Scripting history, two women who are in their 40s entered the Ayyappa temple early on Wednesday and offered prayers. Sasikala said the government acted like a "coward" and took the women to the shrine during the early hours.
SABARIMALA ROW : LATEST UPDATES
2:50 pm: Three BJP workers injured at Vadanappally in Thrissur district during clashes with Social Democratic Party of India (SDPI) workers.
1:15 pm:
Trivandrum: Asianet cameraperson Biju attacked by BJP workers during protest over #SabarimalaTemple issue. #Kerala pic.twitter.com/RGemTsBDbz

— ANI (@ANI) January 3, 2019
12:16 pm: Congress MP K Suresh on Sabarimala women entry issue: We're observing 'black day' in Kerala today. State government is challenging the sentiments of devotees of Sabarimala. With the sponsor of state government, these two young women entered the temple. They are activists, they are maoists.
11:33 am:  It's government's responsibility to give protection to women. The government has fulfilled this constitutional responsibility. Sangh Parivar is trying to make Sabarimala into a clash zone: Kerala CM Pinarayi Vijayan
11:23 am: PGS Varma, member of royal Pandalam family, on Sabarimala women entry issue: Kerala government is taking measures everyday to send someone there to disturb its rituals. It's festival time when per day 1-2 lakh people used to come to temple but due to government action, it has reduced to 10-15,000.
11:11 am: Supreme Court refuses to give an urgent hearing to a mentioning by lawyer, PV Dinesh, seeking initiation of contempt proceedings against the Sabarimala temple priest for purification of temple premises after entry of two women yesterday. SC said the matter has been fixed for January 22.
11:09 am: Two people have been arrested and two detained for attacking a Special Branch Women Police personnel on duty in rural area of Ernakulam district last night.
10:56 am: Kerala: BJP holds protest march in Kochi against the entry of women in Sabarimala temple
10:45 am: NK Premachandran, KC Venugopal and Suresh Kodikunnil, PK Kunhalikutty move adjournment motion in Lok Sabha over Sabarimala temple women entry issue. 
10:40 am: Yesterday, two women entered Sabarimala temple. They weren't devotees. They were Maoists. CPM with selected policemen prepared an action plan and then saw to it that the women go inside the temple. This is a planned conspiracy by Maoists in league with Kerala govt  and CPM: V Muraleedharan, BJP
10:13 am: Kerala: Two people have been detained by police in connection with yesterday's violence & stone pelting incident in Pandalam over Sabarimala temple women entry.
10:11 am

Kerala: Ambulances being used to help stranded passengers at Thiruvananthapuram Central as bus services are affected in the area due to the hartal called by various organisations over #SabarimalaTemple women entry. pic.twitter.com/tURDZgevh5

— ANI (@ANI) January 3, 2019
10:03 am: BJP Kerala president PS Sreedharan Pillai on protests over Sabarimala temple women entry issue: We will carry on with our agitation in a peaceful manner and abide by the law of the land.
9:00 am: KSRTC PRO: Karnataka State Road Transport Corporation has stopped its bus operations to Kerala for the day in view of the hartal called by various organisations over Sabarimala temple women entry.
8:47 am: In Kozhikode, protesters blocked vehicles and burnt tyres.
8:28 am: Kerala: Security deployed in Pathanamthitta in the view of hartal called by various organisations over Sabarimala temple women entry
8:15 am:

Kerala: United Democratic Front to observe 'black day' in the state in connection with Sabarimala Temple women entry issue; Visuals from Thiruvananthapuram pic.twitter.com/YOfcRVKNge

— ANI (@ANI) January 3, 2019
8:00 am: Kerala: A 55-year-old Sabarimala Karma Samiti worker who was injured yesterday in a clash between CPIM & BJP workers, in Pandalam, has succumbed to his injuries; Police investigation underway.
7:25 am: Kerala: United Democratic Front to observing 'black day' in the state in connection with Sabarimala Temple women entry issue 
Among the journalists attacked were Asianet reporter Prakula, Deccan Chronicle photojournalist Peethambaran Payyeri, Mathrubhumi video-journalist Biju. Camera and equipment of channels like Mathrubhumi and Media One were also damaged.
The Kerala Union of Working Journalists' flayed the attack on the media personnel and sought stern action.
This is the the seventh shutdown called by right-wing groups in just three months over the Sabarimala issue.
Traders' organisations have said they will not cooperate with the shutdown and sought police protection to open their establishments.
On December 20, over 35 trade organisations in Kerala had come together to announce that 2019 will be 'anti-hartal year'.
The Antharashtriya Hindu Parishad has also called for a hartal Thursday.
The Nair Service Society, an outfit of Kerala's forward Nair community, condemned the violation of Sabarimala's centuries-old tradition and said it would continue its legal
battle to protect the faith of Ayyappa devotees.
NSS, which has filed a review plea in the Supreme Court challenging its verdict, expressed hope that the top court would take a favourable decision. The top court will consider the review plea on January 22.
Addressing a meeting of NSS members on the occasion of the Mannam Jayanti celebrations at its headquarters in Changanassery near Kottayam, NSS general secretary G Sukumaran Nair said it would approach the Centre if the apex court rejects its plea. "We will continue our legal battle," he said.
"If there is a divine intervention, definitely, the verdict will be in favour of us," Nair added.
An ordinance is the only other way out if the top court rejects the plea seeking review of its earlier verdict, he said.
The Supreme Court had refused to stay its verdict allowing entry of women of all age groups into the shrine, but agreed to hear in open court on January 22 a batch of review petitions in the matter.
Nair supported the decision taken by the chief priest of the temple to perform a 'purification' ceremony after the two women entered the shrine and offered prayers, violating the tradition of the temple.
Raising voice against the shutdown, tourism industry representatives, including Kerala Tourism Task Force convener Abraham George, said the sector was gradually returning to normal after last August's deluge.
In view of the severe damage to the sector in the floods causing huge revenue loss, the tourism industry will function as usual during the shutdown, a statement issued by the representatives said.
They urged the government, political parties, other organisations and public to cooperate for the smooth functioning of the tourism sector.
Kerala DGP ensures strict action against those breaking laws
On Wednesday, Kerala's top cop, DGP Loknath Behera said strict action will be taken against those breaking laws during the bandh. 
"All district police chiefs to take all necessary actions to ensure normal life of people in the background of hartal called by some organisations. Strict action will be taken against those who involve in any kind of attack or blocking the way of people. If someone destroys public property, legal action will be taken to compensate the amount from their account. Police protection should be given to the offices of all political parties," Behera said in a statement.
WATCH VIDEO: Aaj Ki Baat with Rajat Sharma | January 2, 2019

(With inputs from agencies)