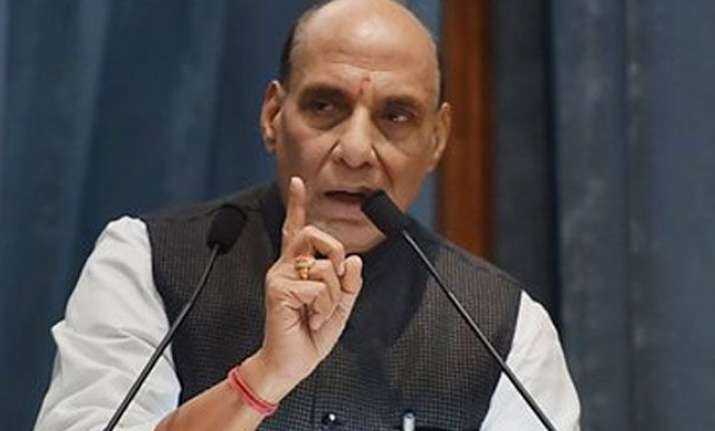 Home Minister Rajnath Singh today questioned as to why some people were objecting to the deportation of Rohingyas when Myanmar was ready to accept them.
Addressing a seminar organised by the National Human Rights Commission (NHRC), the home minister said, "The Rohingyas are not refugees. They have not come here after following proper procedures. No Rohingya has applied for asylum. They are illegal immigrants."
The minister said that people should understand that one aspect of illegal immigration of Rohingyas is related with the national security. Adding further, the minister said that India would not violate any international law by deporting Rohingyas as it was not a signatory to the UN Refugees Convention 1951.
Reiterating that Rohingya Muslims living in India are not refugees, he said that the principle of non-refoulment applies on those who have taken asylum in India. No Rohingya has applied for asylum in India till today.
The NHRC recently issued a notice to the Centre over its plan to deport Rohingyas, who are residing in various parts of India. According to the Commission, from the human rights angle its "intervention is appropriate" in the matter.
The Home Ministry on Monday submitted its affidavit in the Supreme Court on the deportation of Rohingyas to Myanmar, calling them a "security threat to India". The court will hear the issue on October 3.
WHAT IS IT ALL ABOUT?
Myanmar considers the Rohingya illegal migrants from Bangladesh and refuses them citizenship, even though many have lived there for decades.
More than 420,000 Rohingya have been forced to flee violence in Myanmar's northern Rakhine state in what the United Nations has described as "ethnic cleansing." Some 40,000 Rohingya Muslims have taken refuge in India and reside in Jammu and Hyderabad.
Meanwhile, Myanmar's de-facto leader Aung San Suu Kyi has said that the country would take back verified refugees.
ALSO READ | Take back Rohingyas, don't call them Bengalis: Sheikh Hasina to Myanmar