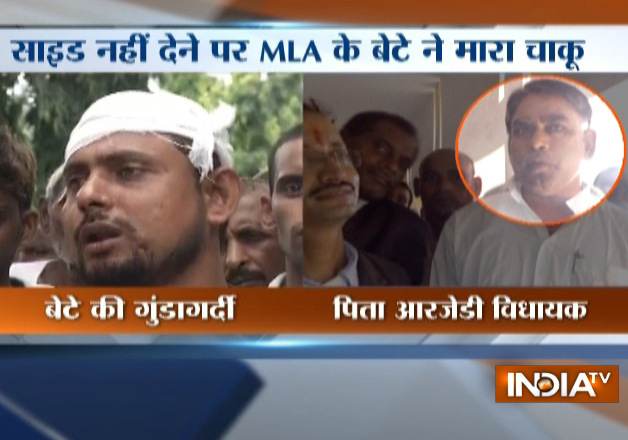 There seems no stopping of 'goonda-raj' in Nitish Kumar's Bihar. In a shocking incident of road rage reported from Aurangabad district yesterday night, RJD MLA Birendra Sinha's son Kunal Pratap reportedly stabbed a youth for 'refusing' to let him overtake his car.
According to reports, the victim was rushed to a Patna hospital with multiple stab injuries where his condition is said to be critical.
The Times of India reported that the police have taken Kunal into custody for allegedly stabbing the man in an incident of road rage.
Police said that the accused was detained last night and further examination is going on. 
Sinha, however, denied his son was arrested, and said that he, in fact, went to the police station to report the incident.
"My son was not involved in any stabbing incident. The youth slashed himself with a blade and now blaming my son Kunal for the injuries," the MLA said. 
"This is a political conspiracy to malign my image. I am confident that my son is innocent and let the police investigate the matter properly. Things will be clear soon," he added.
Reports also claimed that a large number of Sinha's supporters gathered at a police station in Obra reportedly to build pressure to release Kunal.
The incident took place months after JD(U) legislator Manorama Devi's son Rocky Yadav shot dead a youth Aditya in Gaya for overtaking his car.