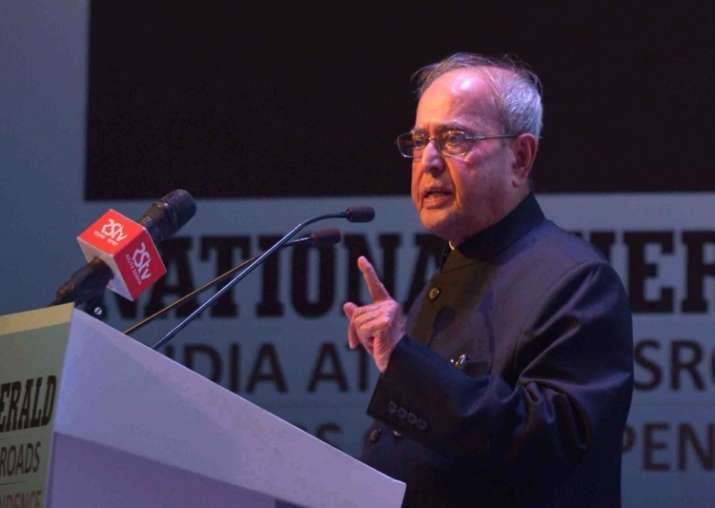 Amid rising incidents of mob lynching from Jharkhand to Jaipur, President Pranab Mukherjee on Saturday said that when mob frenzy becomes so "irrational and uncontrollable", citizens need to be vigilant to save the basic tenets of the society. "When mob frenzy becomes so high, irrational and uncontrollable, we have to pause and reflect. Are we vigilant enough to save the basic tenets of our time?" the President said. 
"When mob frenzy becomes so high, irrational and uncontrollable, we have to pause and reflect. Are you vigilant enough. I am not talking of vigilantism. I am talking about whether we are vigilant enough proactively to save the basic tenets of our time," he said at a function to celebrate 70 years of India's independence. 
He also urged the intellectual class to rise and be vigilant as it could act as the biggest deterrent to forces of darkness and ackwardness. "An active vigilance is the need of the hour."
Mukherjee was speaking at an to launch of a commemorative publication on 70 years of India's independence by National Herald. Former prime minister Manmohan Singh, Congress president Sonia Gandhi and party vice president Rahul Gandhi, besides a host of dignitaries, former ministers, MPs and Congress leaders were also present at the event.
His remarks come in the wake of recent incidents of lynching. A man was on Thursday lynched in Jharkhand on specioun of carrying beef. A week before, a teen was lynched by a group of people in local train near Faridabad. 
Mukherjee also said that one cannot obliterate one's duty towards the issue, saying, "Posterity will demand an explanation from us about what we have done. I raise this question within myself."
The President also appealed to the media to remain constantly vigilant saying it is because of it that democracy survives. "You must rise to preserve and ensure human dignity is maintained, slavery is kept away. You will have to maintain your vigilance. I do believe that citizen's vigilance, intellectual vigilance and media vigilance can act as the biggest deterrent to the forces of darkness and backwardness."
The President, whose term will ends in a few week, said that 'as an ordinary citizen of the country, he felt that a gigantic task was achieved by having a country of 1.3 billion people, where 200 languages and dialects are used, all seven major religions of the world are practiced and all three major ethnic groups live unitedly under one Constitution, one flag and in peace and harmony'. 
"Therefore, we shall have to ponder over, pause and reflect when we read in newspaper or see on the television screen that an individual is being lynched because of some alleged violation of law or not," he said. 
Recalling Jawaharlal Nehru's words that "freedom is in peril, defend it with all your might" in 1939, Mukherjee said that these words have relevance for all times when freedom is in danger and peril. "Eternal vigilance is the price of freedom," he said. 
He also said that in a world where might was considered right, Mahatma Gandhi told the world that means were as important as the ends. 
"Our struggle then was for freedom against oppression from foreign rule. Our struggle today is to defeat the demons of poverty, hunger and disease in line with the transformational characteristics of our Constitution," he said. 
Sonia attacks govt over vigilante violence
Slamming the 'culture of vigilante violence', Congress president Sonia Gandhi said it was being 'actively supported' by those who are supposed to enforce the law and that the nation was facing a great challenge in the form of 'domestic misrule'. She said India has reached 'a crossroads marked by increasing threats of authoritarianism and bigotry' and the 'inclusive conception of the country was under attack'. 
"We are in a war of ideas. We wage this war to preserve our ideals, which have built India up as a model of democracy, diversity and co-existence. When these ideals are threatened, India itself is in danger. And if we do not raise our voices, if we do not speak up, our silence will be taken as consent," she said.
She said 'the tried and tested idea of India has been thrown fundamentally into question by rising intolerance, by malevolent forces that tell Indians what they cannot eat, who they cannot love, what they cannot say-indeed, what thoughts they cannot hold'. "All this was being encouraged by a culture of vigilante violence actively supported by those who are supposed to enforce the law. Such examples assault our consciousness almost daily."