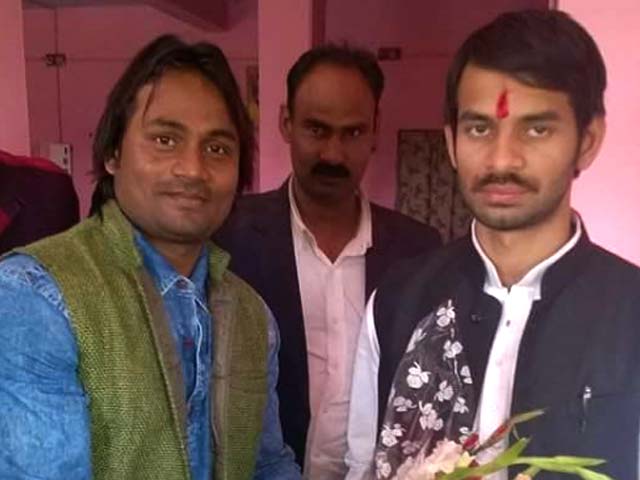 Bihar Health minister Tej Pratap Yadav today admitted before the Supreme Court of having accepted a bouquet from Mohammad Kaif, an accused absconding in the murder of journalist Rajdeo Ranjan.
Tej, the son of RJD chief Lalu Prasad Yadav, recently came into spotlight after his picture with the murder accused surfaced on social media. He has, however, denied his involvement in the case.
Meanwhile, the SC has handed the Central Bureau of Investigation a time frame of three months to finish its probe in the sensational murder of Rajdeo allegedly at the behest of RJD strongman Mohammed Shahabuddin.  
Earlier, SC had issued a notice to Tej Pratap Yadav and asked him to explain how an alleged shooter wanted in the murder of a prominent journalist in the state was seen with him in photographs.
Bihar minister Tej Pratap Yadav admits in SC that he accepted bouquet from Siwan journalist murder accused but denies involvement

— ANI (@ANI) October 17, 2016
Journalist Rajdeo Ranjan's wife moved the Supreme Court after the photographs surfaced, seeking that the trial in her husband's murder case be shifted to Delhi as she fears for her family's life.
The Supreme Court then ordered the Bihar police to provide protection to the journalist's family and also sought a status report from the CBI, which was asked to take over investigation in the case.
Earlier in September, Mohammad Kaif surrendered to the Bihar police. 
While ostensibly on the run, he was also spotted in photos and video footage with Mohammad Shahabuddin, a gangster-turned-politician serving two life sentences for murder. He was released on bail earlier in September.