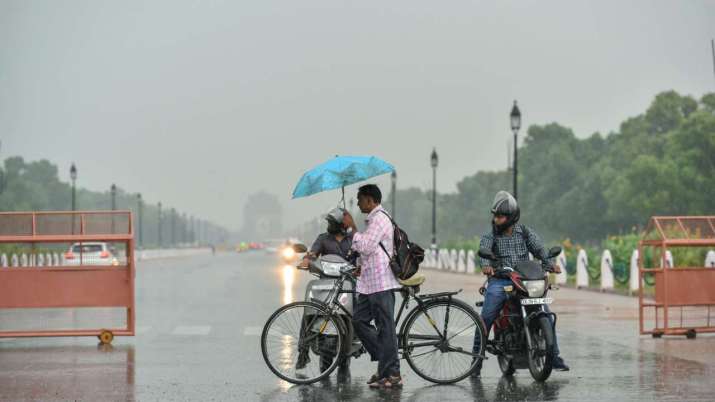 In what can bring cheers to the people in the national capital and its surrounding areas, the weather agencies have predicted rains to continue till Saturday, which will help keeping the mercury levels low.
The temperature dipped in Delhi on Wednesday after an an intense spell of rain lashed the city in the morning, bringing the mercury level down by several notches. 
The maximum temperature was recorded at 35.7 degree Celsius while the minimum temperature was 22.3 degrees Celsius. A total of 1.4 mm rainfall was recorded till the evening.
The rains also pushed the pollution levels down, as the Air Quality Index (AQI) in Delhi improved to "moderate" level at 186.
Thursday will be partly cloudy with chances of light rains, said an India Meteorological Department (IMD) official.
"Western disturbance over Jammu and Kashmir has caused cyclonic circulation over Rajasthan. It is likely to cause rains in Delhi and its surrounding areas on Thursday. The wind speed will be about 30-35 kmph," said the official.
The weather department has forecast the maximum temperature to remain below 35 degree Celsius on Thursday. 
The IMD has also predicted higher chances of thunderstorm on Thursday and Friday. 
According to private forecaster Skymet, Delhi and its adjoining areas are likely to witness rainfall till Saturday.
"The existing cyclonic circulation is weakening. A new one is expected to form on the Haryana-Rajasthan border. Besides, winds with moisture are flowing easterly from the Arabian Sea. These factors can lead to rains till Saturday," said Mahesh Palawat, Director at Skymet. 
Delhi is expected to receive good amount of rain much before the south-west monsoon arrives, owing to "strong" pre-monsoon activities in northern India. 
However, the temperature is set to increase from Sunday onwards and heatwaves are expected from May 21, Palawat said.