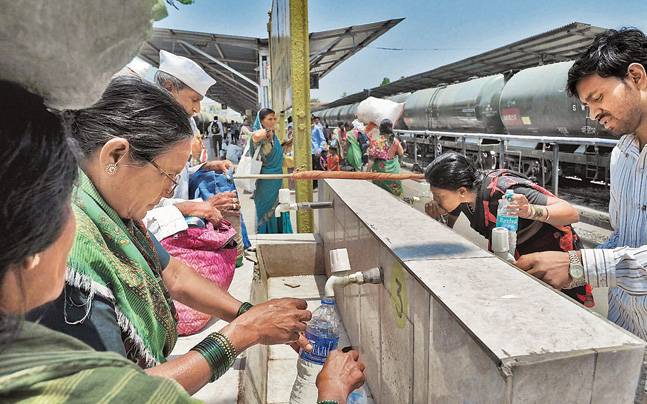 In a development that points to the existence of severe health hazards for the millions of people that undertake train journeys, the Railways has admitted that the drinking water supplied at platforms as well as at its staff quarters in north India is contaminated with bacteria found in human excreta.
Owning up to the major fault in the Delhi High Court, the Railways said its flawed water quality monitoring procedure indicated that about 10 units of thermotolerant coliform bacteria (TCB) is present in 100ml samples.
The contamination is caused as half of the 541 water chlorination plants in the northern states are dysfunctional.
Giving an account of the harm that TCB can cause, the Bureau of India Standards dubbed it as a sign of faecal contamination that can lead to acute gastroenteritis, diarrhoea, dysentery, and tummy cramps.
According to Dr Suranjit Chatterjee, senior consultant, internal medicine, Indraprastha Apollo hospital, "Usually, it is nothing to worry about and people might recover within a week, but in children, elderly and people who have a compromised immune system, it (TCB) can cause life-threatening conditions like hypovolemic shock due to dehydration."
However, the Indian Railways Medical Manual shows 10 units of TCB in a 100ml water sample to be satisfactory, but the Uniform Drinking Water Quality Monitoring Protocol (UDWQMP) doesn't allow even one unit of the bacteria.
"We are abandoning the IRMM procedures and migrating to the UDWQMP followed by other departments and ministries of the Central and state governments," a senior official said.
The concerned authorities were aware of the contamination for several years as internal tests in 2013 and 2015 indicated the presence of TCB at several stations including at Ferozepur, Lucknow, Ambala and Delhi.
The admission by the Railways came in response to a petition filed on train and platform water.