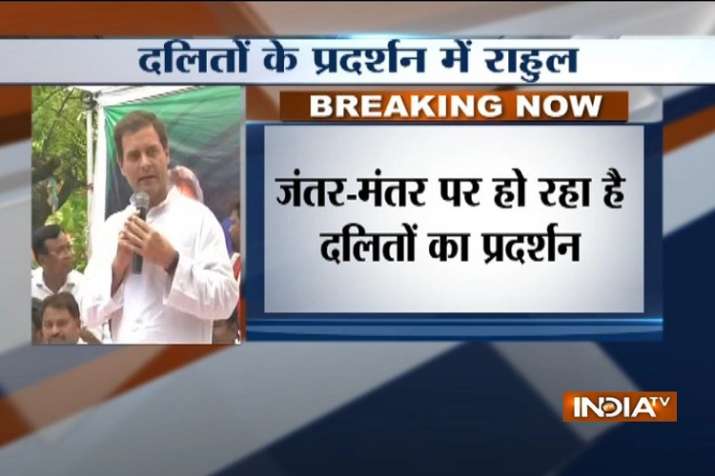 Congress president Rahul Gandhi joined protests being held at Delhi's Jantar Mantar against the dilution of SC/ST atrocities bill on Thursday and slammed PM Modi for being unsympathetic to the Dalit cause.
Describing PM Modi as anti-Dalit, Rahul Gandhi said people from the caste are being targeted in states governed by the Bharatiya Janata Party (BJP) but he has done nothing to stop the violence so far.
"If Modi ji had space for Dalits in his heart then the policies for Dalits would have been different. When he was CM he wrote in his book 'Daliton ko safai karne se anand milta hai'. This is his ideology," Rahul Gandhi said. 
"It was the Congress and former PM Rajiv Gandhi who thought about the Dalit Atrocities Act.  But PM Modi honoured the judge who changed," the top Congress leader added.  
Dalit groups had earlier announced that they were withdrawing the planned 'Bharat Bandh' on August 9 after the Lok Sabha passed the amended SC/ST (Prevention of Atrocities) Bill on August 6.  
However, a few groups such as Madiga Porotha Reservation Samithi (MPRS) had decided to hold protests at Jantar Mantar in New Delhi.
Amit Shah responds to Rahul's charge
BJP president Amit Shah hit back Rahul Gandhi for his remarks on Prime Minister Narendra Modi's treatement of Dalits. Shah slammed Gandhi for protesting against 'strongest amendment to the (SC/ST) Act' and advised him to speak 'about his party's treatment towards Dr Babasaheb Ambedkar, Babu Jagjivan Ram and Sitaram Kesari.'
"Congress way of treating Dalits is patronising and condescending. For years Congress insulted Dalit aspirations," Shah alleged in a series of tweets. 
Rahul Ji, when you are free from winking and disrupting Parliament, give some time to facts as well. 

NDA Government, through a Cabinet decision and in Parliament ensured the strongest amendment to the Act. 

Why are you protesting that? https://t.co/Ik2Jq1Krny

— Amit Shah (@AmitShah) August 9, 2018
The BJP president further questioned alleged that it was no 'co-incidence that the year Mrs. Sonia Gandhi joined the Congress, the Third Front-Congress Government opposed reservations in promotions and the year Rahul Gandhi becomes Congress President they oppose a tough SC/ SCT Act and OBC Commission! Anti-backward mindset visible'.
"Mr. Rahul Gandhi, expecting research and honesty is difficult from you but do read Mr. Rajiv Gandhi's speech during Mandal, when he opposed it tooth & nail. The sense of entitlement and hatred for backward communities comes out so clearly. And today you talk about Dalit welfare!," he said in another tweet. 
Shah claimed that PM Modi's legacy is the strongest amendments to SC/ ST Act, OBC Commission and Panchteerth, while Congress legacy was- insult Dalit leaders, Dalit pride, oppose Mandal and block OBC Commission.
WATCH: Rahul Gandhi says PM Modi is 'anti-Dalit'