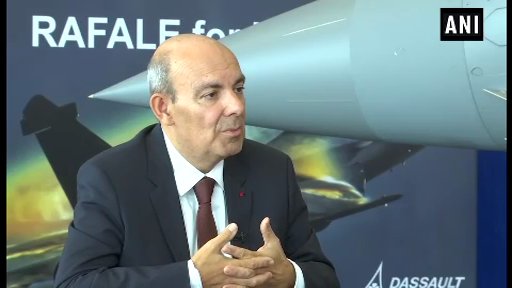 Dassault Aviation Chief Executive Officer (CEO) Eric Trappier has dismissed allegations made by Congress President Rahul Gandhi that the former lied about the details of the Dassault-Reliance Joint Venture (JV) for offset contracts in the Rafale Jet Deal. 
In an interview to ANI, Trappier said, "I don't lie. The truth declared before and the statements I made are true. I don't have a reputation of lying. In my position as CEO, you don't lie."
The Dassault CEO's response on Rahul Gandhi's charge that Dassault was covering up for possible cronyism in awarding the offset deal to Anil Ambani-led Reliance Group. 
In a press conference earlier this month, Rahul Gandhi had accused French aircraft manufacturer Dassault Aviation of paying 'first tranche of kickbacks' of Rs 284 crore to Anil Ambani. He also reiterated his allegations of massive corruption in the Rs 58,000 crore Rafale deal. 
The Congress scion had also said that if an inquiry starts on the Rafale deal, the Prime Minister is not going to survive the probe.
The Dassault CEO said they had prior experience dealing with the Congress party but the comments made by Gandhi made him sad. 
"We have a long experience with the Congress party. Our first deal was with India in 1953 with Nehru and other Prime Ministers. We have been working with India. We are not working for any party. We are supplying strategic products like fighters to the Indian Air Force (IAF) and the Indian government. That is what is most important," Trappier told ANI. 
Replying further on the allegations of corruption in the Reliance-Dassault JV deal, he said: We chose Ambani by ourselves. We already have 30 partners other than Reliance. The IAF is supporting the deal because they need the fighter jets for their own defence to be at the top."
"Price of 36 was exactly the same when you compare with 18 flyaway. 36 is the double of 18. So as far as I was concerned, it should have been double the price. But because it was govt to govt, there was negotiation, I had to decrease price by 9%," he said.
"We are not putting the money in Reliance. The money is going into the JV (Dassault-Reliance). Engineers and workers from Dassault are taking the lead as far as the industrial part of the deal is concerned," he added.
Dassault CEO interview 'dictated': Congress
Soon after Dassault CEO's interview was aired, Congress spokesperson Randeep Singh Surjewala took to  Twitter to describe it as 'dictated' and the claims made as 'manufactured lies'.
'Dictated Interviews' & 'Manufactured Lies' can not suppress the #Rafale Scam!

First rule of Law-
Mutual Beneficiaries & Co-accused's statements hold no value.

Second Rule:-Beneficiaries & Accused can't be Judge in their own case.

Truth has a way of coming out. https://t.co/rRoGlKNl6q

— Randeep Singh Surjewala (@rssurjewala) November 13, 2018
Reiterating that the Rafale fighter jet deal between India and France is a scam, Surjewala said," 'Dictated Interviews' & 'Manufactured Lies' can not suppress the Rafale Scam! Nation doesn't need 'doctored explanations' but 'fair investigation'!"
FULL VIDEO: