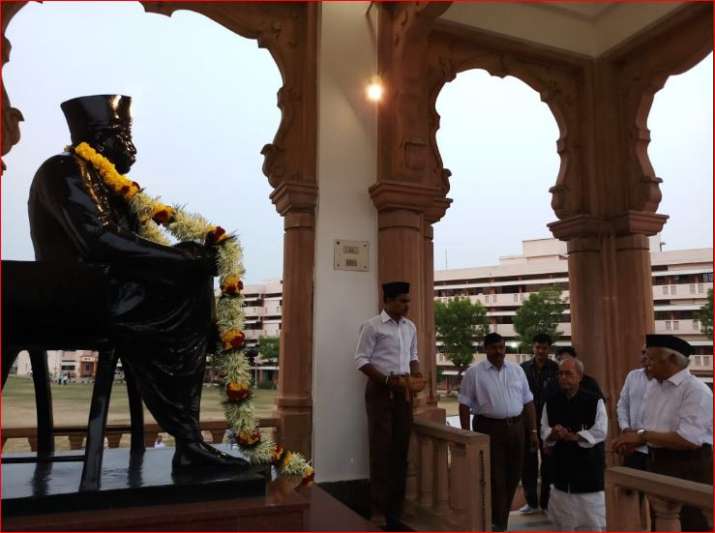 Paying homage to RSS founder Keshav Baliram Hedgewar at his birthplace in Nagpur, former President Pranab Mukherjee on Thursday praised him as  a "great son of Mother India'.
"Today I came here to pay my respect and homage to a great son of Mother India," the former President wrote in a visitor's book at Hedgewar's birthplace ahead of his valedictory speech at the RSS headquarters. 
Subhash Chandra Bose's family members were also present on this occasion, PTI quoted its sources as saying.
Pranab Mukherjee was welcomed at Hedgewar's birthplace by RSS chief Mohan Bhagwat.
The former President had to walk through narrow lanes to reach the house where Hedgewar was born and also removed his shoes before entering the place. 
According to sources, this visit to pay tributes to Hedgewar was not part of Mukherjee's scheduled itinerary and an impromptu decision was taken by the former president to do so. 
Mukherjee, who reached Nagpur last evening, was invited by the RSS to address its Shiksha Varg and attend a parade by the Sangh workers on completion of the training camp. 
It is an annual training camp, meant for swayamsevaks in their third year in the organisation. The RSS holds training camps for first, second and third-year swayamsewaks. 
Mukherjee's decision to attent the RSS event had triggered a major political slugfest with several Congress leaders criticising his decision. 
Senior Congress leader Ahmed Patel on Thursday expressed his disapproval at former president Pranab Mukherjee visiting the RSS headquarters in Nagpur and said he did not expect this from him. 
Mukherjee's daughter and Congress leader Sharmistha had yesterday said her father was giving the BJP and the Sangh a handle to plant false stories with his decision to speak at the RSS event. 
His "speech will be forgotten" but the "visuals will remain", she said on Twitter. She also expressed the hope that the former president would realise how the BJP's "dirty tricks department" works and warned him of the consequences of attending such a meet. 
Some Congress leaders, including Jairam Ramesh and C K Jaffar Sharief, also wrote to him, while a few leaders of the party, including Anand Sharma, personally visited him in a bid to dissuade him from going to Nagpur. 
(With PTI inputs)