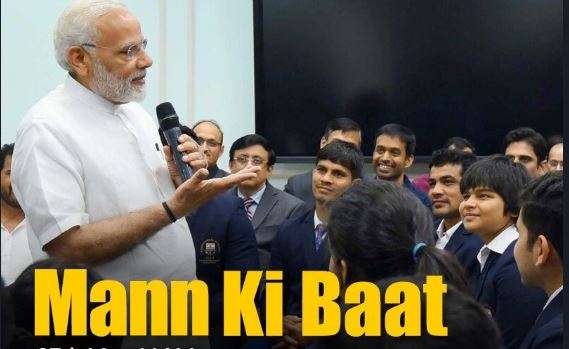 Prime Minister Narendra Modi on Sunday addressed the people in India and abroad in the 44th edition of his monthly radio programme, 'Mann ki Baat'.
AIR will broadcast the programme in regional languages immediately after the Hindi broadcast. Regional language versions of the programme will also be repeated at 8 PM. 
Here are the live updates:
11:27 am: While talking about Veer Savarkar PM says, "Veer Savarkar was a prolific writer and social reformer."
11:25 am: The month of May is associated with a historic event in 1857. While many preferred to call it only a Mutiny or a Sepoy Mutiny, it was Veer Savarkar who called it the First War of Independence. I pay my tributes to the great Veer Savarkar, says PM
11:24 am: During Mann Ki Baat, PM Narendra Modi pays tributes to Pandit Nehru on his Death Anniversary.
11:23 am:  On June 21, we will mark the 4th Yoga Day. The world has seen the manner in which Yoga unites. We believe in Yoga for unity and Yoga for a harmonious society," says PM.
11:22 am: The positive response towards Fit India is overwhelming, there has been an increase in awareness towards fitness. The Fit India challenge has spread on social media very rapidly.
11: 20 am: "In the last few weeks we saw what happens due to unusual weather patterns. India will do everything possible for a cleaner and greener tomorrow. This time, let us focus on tree planting," says PM Modi.
11:18 am: India is delighted to host this year's World Environment Day programme. It is our duty to live in harmony with nature, says PM.
11:17 am: PM Narendra Modi commends the BSF team for not only scaling Mount Everest recently, but removing loads of trash littered there and bringing it down as part of the 'Clean Ganga-Clean Himalaya Campaign'.
11:13 am: PM adds that we must not forget our heritage. Through crowd sourcing, let us make archives of our traditional sports. The coming generation will gain through this.
11:12 am: He says children should devote this summer to playing traditional games of India. He adds that youngsters can beautifully express themselves through sports.
11:11 am: PM Modi talks about Fitness. He says here is great awareness towards Fitness. Everyone is saying 'Hum Fit Toh India Fit'
11:10  am: I congratulate these daughters and their spirit of adventure for bringing laurels to the country, for raising the glory of the Navy and significantly so, for conveying to the world that India's daughters are no less, says PM Modi.
11:09 am: I would like to congratulate the six daughters of India (6-member all women team of Navy) who sailed 22,000 nautical miles in 254 days to circumnavigate the globe, says PM Modi.
11:08 am: PM Modi lauds 5 tribal students from Chandrapur, Maharashtra, Ajeet and Deeya Bajaj, Sangeeta Bahl and a BSF contingent for scaling Everest. BSF contingent also brought back dirt that had accumulated in the mountains. 
11: 06 am: He says a sense of adventure inspires people to do great things. In the recent weeks, several people scaled Everest and made us proud
11:05 am: PM Modi talks about sense of adventure.
11:00 am: PM Modi addresses 44th edition of Mann ki Baat.