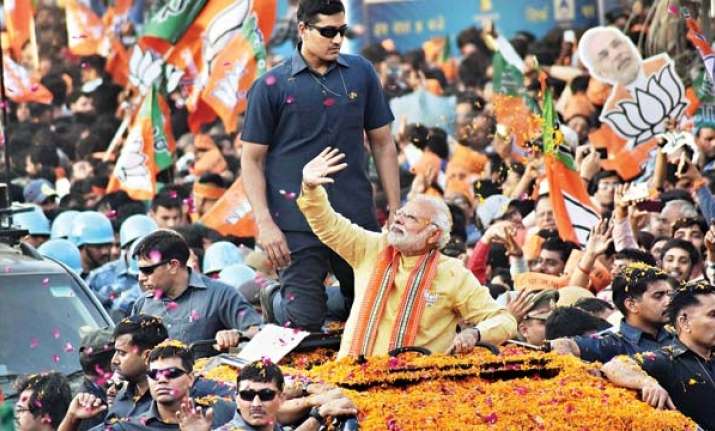 Amid Pune Police' claim of a Maoist plot to assassinate Prime Minister Narendra Modi, Union Home Minister Rajnath Singh on Friday said that the naxals were fighting a lost battle. He also emphasised that the security of PM was their top priority. 
"Security of the Prime Minister is the top priority. Maoists are fighting a lost battle. Maoist insurgency has considerably come down," the Home Minister said.
"At present, the Maoist insurgency affects just 10 districts and it will end soon as has been done in the Northeast where insurgent violence has been contained and brought down by 85 per cent."
Singh said the Naxal violence will come to an end soon as their area of influence has come down from 135 districts in the country to 90 but they are very active in only 10 of these. 
Meanwhile, Union Minister Arun Jaitley flagged the "dangerous tendency" of Maoist expanding activities in areas beyond usual extremism affected regions and attacked "some political parties" for using them against the ruling NDA. 
Jaitley, in a blog, hit at some political parties for using Maoist as an instrument against the ruling NDA. 
"Unfortunately some political parties see the Maoist as their instrument in the anti-NDA cause. The history of terrorism and extremism teaches us one basic fact. Never ride a tiger, you may be its first victim," Jaitley said. 
He said the past few days have witnessed evidence of increased Maoist activities in areas other than usual extremism affected areas. 
"This is a dangerous tendency which all political parties must realise and react to. The Maoist believe in the violent overthrow of constitutional system and not just the Government," he said, adding that in their perceived system there are no fundamental rights, no rule of law, no Parliament and no free speech. 
But, to expand their political base their sympathisers make full use of the democratic idioms, the minister said. 
Union Minister RK Singh was of the view that the matter of the possible assassination of Prime Minister Narendra Modi should be taken seriously. 
"Prime Minister is under threat now; the matter should be taken seriously. Those who don't want India to emerge as a powerful nation have become uncomfortable as they know India can only become powerful under his leadership," Singh told ANI.
All you need to know about naxals' 'plot' to assassinate PM Modi
The police in Pune yesterday told a court that they had seized a "letter" from the Delhi residence of one of the five people arrested on Wednesday for having alleged "links" with the banned CPI (Maoist). 
The purported letter allegedly mentioned of a plan to "assassinate" Modi in "another Rajiv Gandhi-type incident", the police told the court. 
Pune Police intercepts internal communication of Maoists planning a 'Rajiv Gandhi type' assassination of Prime Minister Modi. pic.twitter.com/o2rt2al4aj

— ANI (@ANI) June 8, 2018
The plot to assassinate PM Modi was revealed when the Pune Police raided the house of one of the accused in Bhima Koregaon violence case. A letter detailing the assassination attempt and urging 'comrades' to take some concrete steps was recovered from the laptop of Rona Wilson, who was arrested on Wednesday (June 6) along with four others - Sudhir Dhawale, Surendra Gadling, Mahesh Raut and Shoma Sen - for having links with banned CPI-Maoists..
The letter proposed that PM Modi should be targetted during his roadshows. 
"Comrades proposed concrete steps to end Modi-raj. We are thinking of Rajiv Gandhi type incident. There is good chance we might fail but party must deliberate on it.Targeting his road shows can be effective," the letter stated.
However, Congress has questioned the timing of the Pune Police' investigation into Bhima Koregaon violence. Party leader Sanjay Nirupam went on to suggest that the news about PM Modi's assassination plot may have been planted deliberately.
WATCH: Maoists' 'plot' to kill PM Modi revealed: