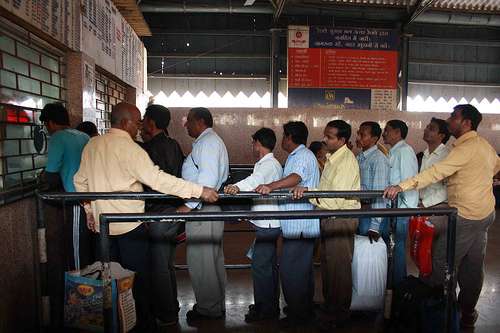 Railway passengers on Wednesday faced a harrowing time at the ticket counters of New Delhi Railway Station as the demonetization of Rs 500 and Rs 1,000 currency notes left most counters without any change and many passengers were denied tickets.
While the government announced that railway booking counters will accept the 500 and 1,000 rupee notes till the midnight of November 11, passengers at New Delhi Railway Station complained that such notes were not being accepted at the ticket counters despite their standing in queue for hours. 
Narrating his ordeal, Sanjay Yadav, 34, senior engineer with Jahjjar Power Limited, who was denied a ticket by railway officials, told IANS: "I had to travel to Allahabad, but I was denied a ticket for Rs 150 as the officials said they didn't have change for the Rs 500 I gave them."
"I waited at the ticket counter for over one and half hours, yet I was unable to get a ticket," he rued.
The government on Tuesday night declared that notes of Rs 500 and Rs 1,000 denomination ceased to be legal tender from midnight in an effort to fight black money. 
Yadav also said he was unable to buy any food item from the kiosks at the railway station as the shopkeepers refused to accept Rs 500 notes.
Mohammad Chand, 21, a resident of Agra who was waiting at the ticket counter, told IANS, "I got lucky to get a ticket. I had to change four counters to get a ticket as the three previous counters denied me a ticket due to the problem of change."
Subhash Prasad, who runs a railway cafeteria near the unreserved ticket counter at New Delhi Railway Station, told IANS: "There is a problem of change, but we are providing food items and accepting 500 and 1,000 rupee notes after taking the PNR of the reserved ticket of passengers and ticket numbers of the unreserved tickets with passenger's ID proof and mobile number."
Mohammad Jamshed, Member Traffic of the Indian Railways, told reporters here that the Railways has taken several measures to deal with the impact of the government's demonetization decision. 
"After the Prime Minister's announcement, we took all necessary steps to deal with ticketing. The Railways ferries around 2.3 crore passengers every day, and around 13 lakh reserved tickets are sold; of the 13 lakh reserved tickets, around seven lakh are booked through e-ticketing which is not a problem but the rest of the six lakh are tickets sold at counters. We informed all the Railway General Managers and DGMs to ensure that passengers don't face any problems." 
He also said that Railways has made arrangements for unreserved tickets. 
"To arrange for change to passengers, we kept the cash with us yesterday (Tuesday) instead of depositing in the bank. That money was used by us to deal with the situation," Jamshed added.
He also said the Railways had sought banks' help in providing lower denomination currency to passengers.
"As the banks were closed today (Wednesday), we are in talks with them (banking authorities) to get rupee notes of lower denomination to manage our booking counters," Jamshed added.
"We asked all the catering service providers on the platforms and in the trains to accept the 500 and 1,000 rupee notes," Jamshed said.
The Railway Traffic Member also said that Railways has formed a Special Investigation Team in the ministry to monitor unusual transactions. 
"Now passengers who make ticket transactions of over Rs 50,000 have to give their PAN details," he added.
"Apart from this, we are also monitoring the social media to address the complaints that we are receiving," he added.
Hailing Prime Minister Narendra Modi's move, Railway Minister Suresh Prabhu said the government's decision will benefit the people, society and country in the long run.