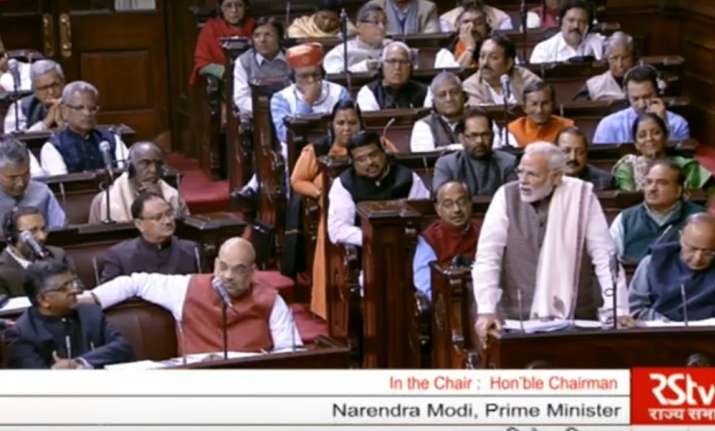 Prime Minister Narendra Modi on Wednesday delivered Motion of Thanks on the President's address amid noisy disruptions in Lok Sabha and Rajya Sabha. 
While speaking in the Lower House of Parliament on Wednesday, PM Modi accused Opposition of dividing India and said his party is still paying for the sins the Congress party committed in 1947.
"This is the same party that divided India. For decades, one party devoted all their energies to serve one family. The interests of the nation were overlooked just for the interests of one family," the prime minister said in the Lower House of Parliament amidst continuous pandemonium. "Opposition has the right to protest but not disrupt," the prime minister said in Lok Sabha earlier in the day.
In his reply, the prime minister even added had Sardar Vallabhbhai Patel been the first prime minister, a part of Kashmir would not have been under control of Pakistan.
In his Rajya Sabha speech, the prime minister urged the opposition to rise above party lines to implement schemes which will benefit poor, protect women and uplift the disadvantaged. 
Here are the LIVE Updates on Rajya Sabha, Lok Sabha proceedings:
05:08 pm: P Chidambaram had announced in the Budget that our govt is agreeing to the long pending demands & it will be implemented from 1.4.2014 onwards. After that I took meeting with all the 3 vice chiefs of the Armed forces & secretaries: Congress MP AK Antony
05:08 pm: Sorry to say that statement of PM that your govt has taken a decision on One Rank One Pension is factually wrong. It was taken by UPA govt led by Manmohan Singh: Congress MP AK Antony
05:07 pm: Congress leader Antony replies to PM Modi's speech: One Rank One Pension was passed and implemented by UPA Govt and not BJP Govt
Here are the highlights of PM Modi's speech on Motion of Thanks to the President's address in Rajya Sabha- 
05:06 pm: PM Modi ends his Motion of Thank to President's speech 
05:05 pm: Let us have a constructive discussion on holding simultaneous Lok Sabha and Vidhan Sabha elections in the various states
05:04 pm: India has spent over Rs 3,000 crore on assembly elections since 2014, while this money could have been used for people
04:59 pm: We are working to ensure that every Indian has his or her own home, access to cheap medicine
04:57 pm: PM uses quotes by Congress leader Jairam Ramesh and former President and Congress leader R Venkatraman to assail Opposition
04:53 pm: If we calculate how much money was spent in the past to advertise on birthdays of only one family member, we can see how much money has been wasted, which could have been used to behavioural change
04:50 pm: To implement schemes, we need a behavioural change in society which doe snot come from govt functions, but from ground level work to educate people
04:48 pm: Look at what all you mocked- Swachh Bharat, Make in India, surgical strikes, Yoga Day. You are free to mock as you please but why are you blocking the bill for OBC Commission? Why are you blocking Triple Talaq Bill. Are you not sensitive to the aspirations of OBCs: PM to INC
04:45 pm: Congress had a chance to bring Triple Talaq law 30 years ago, but they failed to do so to protect vote bank. If you feel so strongly about bringing changes to Triple Talaq Bill, then you should have brought the law yourself, when you were in power for so many years
04:42 pm: We incorporated new technologies in farming to increase the farmer's income through wastage utilisation, lower irrigation needs and new paradigms like bamboo plantations
04:33 pm: Why did it take so long for us to honour Sardar Patel and Bhimrao Ambedkar with Bharat Ratna
04:32 pm:Trinamool Congress members stage a walkout in Rajya Sabha during Prime Minister Narendra Modi's reply, saying it has not got answers to questions raised by it
04:30 pm: During the Gujarat campaign I was happy- I thought at least now the Congress realised the greatness of Sardar Patel. Sadly, one week after the results Sardar Patel was missing in Congress posters
04:28 pm: We have cleared projects worth Rs 9 lakh crore, which were inaugurated during previous governments but were still pending
04:25 pm: We found that there at least 1500 new trains announced in annual Rail budgets but never got off the ground
04:20 pm: Congress keeps saying we brought Aadhaar. Let me remind them about a debate in the Rajya Sabha in 1998 and what LK Advani Ji said. It is in his speech that you will find the genesis of Aadhaar
04:13 pm: You call us name changers....we are aim changers  - we work hard and have ushered in a paradigm shift in the working of the Government. Innovative projects are being thought about and completed in a time bound manner
04:11 pm: I also went to Davos, you also went to Davos. But the difference is-  you went with a letter to save someone
04:10 pm: Congress wants the India of the Tandoor Case. 
04:09 pm: When a big tree falls......remember these lines...is this the India Congress wants
04:08 pm: We want Mahatma Gandhi's India. Even the Congress wants 'Gandhi's India.' - the India of the Emergency, Bofors, Chopper scams 
04:07 pm: I fail to understand why some people feel bad when India improves its ease of business rankings
04:05 pm: We are always looking for suggestions, feedback and input on our schemes. After all, we are working for the nation and the poor
04:03 pm: Criticise BJP as much as you can, but you start criticising India instead
04:02 pm: Do not want to discuss what could have been done in 70 years, my focus is to help the poor stuck in a cycle of poverty and disease
04:01 pm: If Congress finds any errors in the scheme, I encourage them to make a committee and I will correct those issues
04:00 pm: Let us work together in providing the poor quality and affordable healthcare
04:00 pm: You were speaking about Ayushman Bharat and gave the example of US and Britain, there is a vast difference between them and our society but of course being in power for more than 50 years you get cut off from the ground
03:57 pm: PM Modi begins his speech
House proceedings before PM Modi's speech
03:52 pm: You are in power, be judicial do not crush your opposition: Congress to PM Modi in Rajya Sabha
03:50 pm: Opposition is being targeted to settle scores, false cases are being filed muzzle the voice: Anand Sharma
03:49 pm: Anand Sharma raises objections to the time limit on his speech, questions if his speech was live on Rajya Sabha TV
03:48 pm: If you change the deal, triple the cost, push out HAL, the questions will be raised: Anand Sharma, Congress in RS
03:45 pm: On his Paris trip, PM Modi was accompanied by CEOs of private companies who received contracts meant for public sector HAL: Sharma in RS
03:43 pm: Rafale deal by BJP lacks transparency, will prove today that its biggest scam: Anand Sharma in Rajya Sabha
03:37 pm: We will never say that we want a BJP-free India, Congress in Rajya Sabha
03:35 pm: When you could not create 'Congress-mukt Gujarat', how can you create Congress-mukt Bharat: Anand Sharm in reply to PM's speech
03:30 pm: In Rajya Sabha, Congress leader Anand Sharma replies to PM Modi's speech, says BJP's New India means new history of India
03:15 pm: Lok Sabha, Rajya Sabha marred with disruptions again 
Also read: PM Modi spoke for an hour in Lok Sabha but didn't say a word on Rafale deal: Rahul Gandhi
03:01 pm: Veerappa Moily initiates discussion on Union Budget 2018, presented by Finance Minister Arun Jaitley on Feb 1
03:00 pm: After PM Modi's Motion of Thanks, Lok Sabha starts the discussion on Union Budget 2018
PM MODI'S MOTION OF THANKS IN LOK SABHA
1:35 pm: PM Modi ended his speech in Lok Sabha
​
ALSO READ: Top Quotes from PM Modi's speech in Lok Sabha 
1:30 pm: Opposition continues to raise loud slogans as PM Modi speaks in Lok Sabha.
1:24 pm: Middle class is being misled, we are working towards ease of life for them.
01:10 pm: When the corrupt and middlemen are out of work, obviously the Congress will be unhappy.
01:09 pm: When our government took office in 2014, the chorus from the opposition was - Modi will scrap Aadhaar but when we made Aadhaar more effective in terms of enabling better and effective service delivery, suddenly the opposition began opposing Aadhaar. 
01:06 pm: A government that talked about 21st century could not bring an aviation policy. Then what kind of a 21st century did they talk about, the one with bullock carts?
01:04 pm: Employment is increasing but you have closed your eyes as you are busy singing your songs.
01:02 pm: I can see the energy and enthusiasm in our youth. They want to do something on their own, they want to launch their own start-ups. Our government is giving wings to the aspirations of India's middle class.
1:01 pm: Irrespective of who heads the government, the aspirations of the brimming middle class youth should always be the top priority.
12:53 pm: After forming government in 2014 we prioritised Northeast and worked for its development: PM Modi in Lok Sabha.
12:51 pm: The approvals by the BS Yeddyurappa government in Karnataka made it possible to work quickly on the rail line. We do not bother who is the local MP or MLA, which party they belong to. We serve the nation and care for 125 crore Indians.
12:52 pm: Every Indian is paying the price of the poison infested by Congress.
12:42 pm: We cannot forget how the Congress insulted Shri Neelam Sanjiva Reddy, a proud son of Andhra Pradesh. They humiliated him. Nobody in India needs lessons on democracy from the Congress party, says PM Modi.
12:40 pm: How did the Congress act in Kerala, how did they treat the Akali Dal in Punjab, how did they behave in Tamil Nadu? Why did Congress dismiss so many state governments at their will. This is no commitment to democracy.
12:41 pm: If Sardar Vallabhbhai Patel would have been the first PM of the country, entire Kashmir would have been ours.
12:39 pm: When Rajiv Gandhi landed in Hyderabad, how did he behave with a Congress leader Mr. T Anjaiah. He humiliated a big leader, who did not belong to a privileged background.
12:35 pm: Opposition has the right to protest but not disrupt, says PM Modi in Lok Sabha amidst continuous pandemonium
12:33 pm: PM Modi attacks Congress over creation of Telangana with only political considerations, says people are suffering for this decision.
Loktantra Congress ye Nehru ji ki den nahi hai, Loktantra hamari ragon mein hai hamari parampara mein hai: PM Modi in #LokSabha pic.twitter.com/FwhsoKlKGE

— ANI (@ANI) February 7, 2018
12:32 pm: Opposition's loud slogans of 'Jhutha Bhashan Bandh Karo', 'Jhuthe Ashwasan Bandh Karo' continue as PM Modi speaks.
12:32 pm: How can one of the leaders say India got democracy due to Pandit Nehru and the Congress party? Is this their reading of India's history? What arrogance is this, asks PM Modi
12:30 pm: For decades, one party devoted all their energies to serve one family. The interests of the nation were looked over just for the interests of one family.
12:29 pm: I see that whenever we are criticised by select opposition parties, substance is lacking. They go back to saying - when we were in power. This is the same party that divided India.
12:28 pm: Partition of India injected by Congress, country paying for the sins committed in 1947, says PM Modi.
12:24 pm: PM Modi continues his address despite opposition chanting "Yeh Jhutha Bhashan Band Karo" slogans.
12:18 pm: Opposition raises loud slogans in Lok Sabha as PM Narendra Modi speaks on the Motion of Thanks to the President's address.
Opposition raises loud slogans in Lok Sabha as Prime Minister Narendra Modi speaks on the motion of thanks to the President's address. pic.twitter.com/aSArTzsB3y

— ANI (@ANI) February 7, 2018
12:10 pm: When we speak about creating new states, we remember the manner in which Atal Bihari Vajpayee Ji created Uttarakhand, Jharkhand and Chhattisgarh. He showed how farsighted decision making is done, said PM.
12:08 pm: PM Modi accuses opposition of dividing India and said his party is still paying for it.
12:07 pm: PM Modi begins his Motion of Thanks in Lok Sabha amid opposition ruckus. 
12:01 pm: The debate on the Motion of Thanks to President Ram Nath Kovind's address to the joint sitting of the two Houses of Parliament on the opening day of the Budget Session began on Tuesday.
11:58 am: The prime minister is expected to respond to the opposition attack on his government over a host of issues, including alleged tardy employment generation, the state of economy, agriculture and foreign affairs, among others, and will list its achievements.