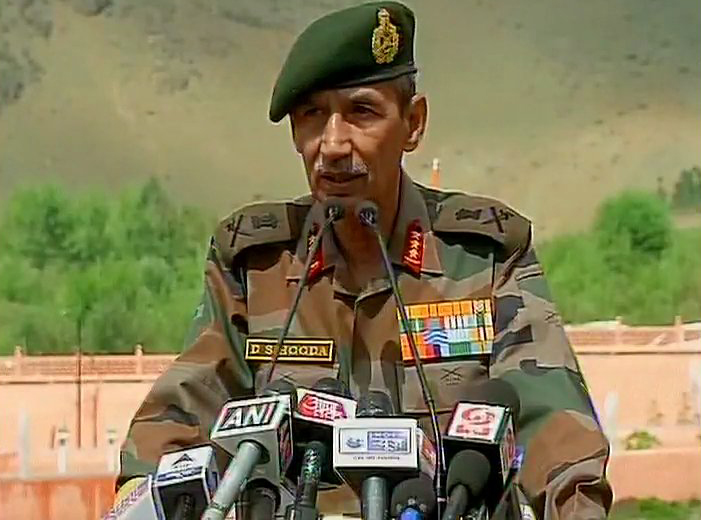 The Army has blamed Pakistan of playing a "direct role" in fuelling terrorism in Jammu & Kashmir and warned of more infiltration bids along the LoC in the coming weeks in view of the volatile situation in the valley.
"Pakistan is interfering in Kashmir and has direct role in what we call as proxy war in Kashmir and there is absolutely no doubt in it," General Officer Commanding in Chief (GoC-in-C), Northern Command, Lt Gen DS Hooda told reporters here.
"We have seen it everywhere ... along the borders. We have seen it in the matter in which the support is given to infiltrating groups. We have seen how ceasefire violations have been used as a support to the people infiltrating into this side," Hooda, who was in Kargil to pay homage to the martyrs of Operation Vijay on the 17th Kargil Vijay Diwas at the historic War Memorial. 
He added that infiltration attempts have increased this year as compared to the last year.
When asked if the Army was prepared to handle Kargil like situation today, he said, "We are much, much prepared today, can say with absolute confidence that Kargil-like situation won't arise again." 
"In short, if there is an internal disturbance here, they will directly take advantage of it. You have heard the statements of Hizbul Mujahideen and Lashkar-e-Taiba, trying to say that they are supporting whatever is happening in Kashmir," the Northern Command Chief said.
He said "the support (from Pakistan) is not only moral but it is absolute physical and there is no doubt about it".
Hooda also expressed concern over the increasing radicalisation of youth in Kashmir Valley.
"We have seen there is an increase in radicalization mostly driven by social media and people are quite active on it," Hooda said, adding everyone at all levels has to put their heads together to reduce this trend.
On the question if Army should show more restraint in handling the unrest in Kashmir Valley, Hooda said, "As far as restraint is concerned, Army is not at forefront of tackling this civil disturbance. It is more police and CRPF," adding, "They are doing it with utmost restraint. We are there on the ground, we are seeing it happening." 
"Police have been dealing with this situation for last 20-25 years. They know that restraint is to be exercised, that is exactly what they're doing," he added.