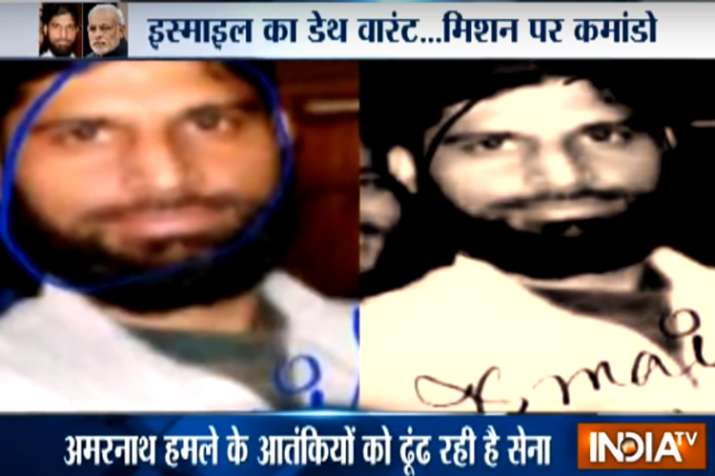 Security agencies have launched a massive search operation to nab Abu Ismail, the Lashkar-e-Taiba commander from Pakistan now suspected to be the mastermind of the Anantnag terror attack that left seven Amarnath Yatra pilgrims dead.
Around 250 security personnel from Army, Jammu and Kashmir Police, CRPF, NIA and BSF have been deployed in the manhunt. National Security Advisor (NSA) Ajit Doval has asked the IB chief, Defence Ministry and Home ministry officials to gather information about Abu Ismail. Photographs and available information on the wanted terrorists has been shared with top security agencies. 
Furthermore, drones have been placed to scan 50 km radius of the area where Abu Ismail is believed to be hiding. 
"We have identified Ismail and two other men who were with him during the attack. We have also identified the people who drove them to the spot and who brought them their weapons. We know the direction in which the terrorists are hidden and we'll hunt them down soon," said a senior police J&K police official.
The 24-year-old Pakistani national infiltrated into India about two years ago and has been operating in south Kashmir. The militant from Pakistan-occupied-Kashmir, who carries a bounty of Rs 10 lakh on his head, is dubbed to be the successor of Lashkar's chief in Kashmir Abu Dujana, who managed to give a slip to the security forces nearly six times in the last couple of years. 
Ismail's proximity with the local Hizbul leadership came to light when he went on a joint recruitment drive in South Kashmir. Ismail is suspected of being involved in the killing of a young Sarpanch (village head) in Pampore in April besides being a member of a LeT module which carried out several bank robberies in recent months. 
Meanwhile, there are also reports hinting at a clash within the militant cadre. Hindustan Times, in its report, cited a security official saying that Ismail and Abu Dujana may be involved in a battle of supremacy, with the former taking over Dujana's place who might have been withdrawn by his handlers — known as Sajid and Waleed — based in the PoK. 
Seven pilgrims returning from the remote Himalayan shrine of Amarnath were shot dead and at least 32 wounded when militants fired on their bus as well as a security vehicle in Anantnag district of Kashmir on Monday. There is mounting evidence of security lapses in the hours before the attack that triggered widespread condemnation across the country.