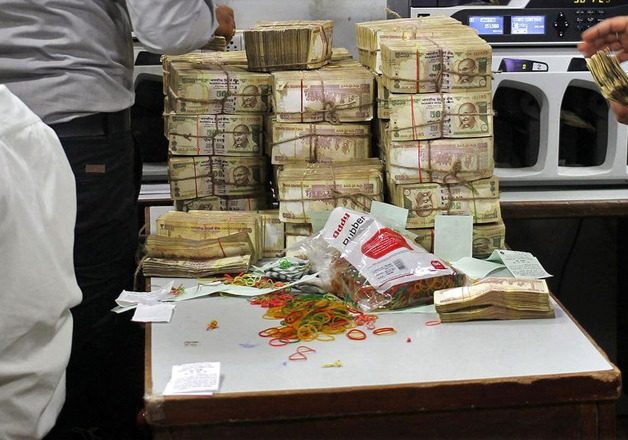 In a vanishing act that has left authorities baffled and embarrassed, Rs 3.5 crore in old currency notes seized from a Bihar-based businessman who landed in Dimapur, Nagaland aboard a chartered aircraft on Tuesday, have now gone missing.
Bihar-based businessman Amarjit Sngh was arrested yesterday at the airport here for carrying Rs 3.5 crore in demonetised currency. However, the seized currency went missing in just a matter of hours.
The cash was seized by Central Industrial Security Force (CISF) personnel at Dimapur after a tip-off from the Intelligence Bureau and the local income tax staff was called for further action on the unaccounted wealth. 
However, much to their shock, the cash was nowhere to be found. The local I-T officer has reportedly claimed that the cash had been lying with the security personnel all along and that he had nothing to do with the entire incident. 
The flight, that took off from Hisar and landed at Nagaland's Dimapur airport at 10:07 am on Tuesday, was sent back to Delhi. 
There were reports that the relatives of an influential Nagaland politician collected the cash. Police, however, said that they have launched a probe into the missing cash and refused to comment on the political link. 
Officials said that sleuths of central security agencies and CISF questioned the man, identified as A Singh from Munger district of Bihar, soon after his jet landed here. The case was later handed over to local Income Tax authorities. 
"CISF sleuths acted on some prior inputs and intercepted the passenger as soon as he landed here. Initially, the amount detected was said to be Rs 5.5 crore but later I-T authorities reported the final amount with him to be Rs 3.5 crore. The taxman is investigating the source of the currency," they said. 
A special vigil has been deployed by security agencies and the airport guarding Central Industrial Security Force in the wake of the demonetisation of the two large currency notes of Rs 500 and Rs 1,000 by the government.
The CISF identified four suspects on the basis of the alert by IB that they were on a mission to launder old currency notes in the state where I-T exemptions offered to Scheduled Tribes offer a window for money laundering.