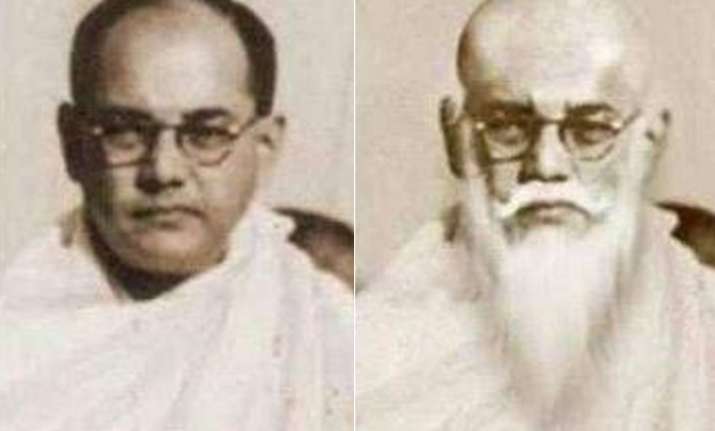 New Delhi: Family photographs of Netaji Subhas Chandra Bose have been found in the treasury of Faizabad district, triggering fresh debate over the mystery behind the true identity of Gumnami Baba.
According to reports, a family portrait, photograph of Netaji's parents, Jankinath Bose and Prabhawati Bose, were found in the first set of boxes, belonging to 'Gumnami Baba, which was opened on March 9.
Their identities have been confirmed by Shakti Singh, the owner of Ram Bhawan -- the place where Gumnami Baba is said to have spent the final three years of his life (1982 to 1985). The district administration has invited Singh, who heads the Subhas Chandra Bose Rashtriya Vichar Kendra in Faizabad, for retrieval and cross-verification of items belonging to Gumnami Baba.
The family photograph shows 22 members besides Netaji's parents, Singh said, adding that Lalita Bose, Netaji's daughter, had visited Ram Bhawan in Faizabad on February 4, 1986. "She identified the people in the photographs, when these were at Ram Bhawan," Singh said.
Also a number of telegrams sent to Gumnami Baba by Azad Hind Fauj veterans Pabitra Mohan Roy and Sunil Kant Gupta have been found in the treasury.

Another report claimed that there are also few letters and postage stamps in the treasury, providing fresh leads linking Netaji to Gumnami Baba aka Bhagwanji.
Another interesting find was a write-up by Samar Guha published in a newspaper dated March 13, 1978, that reads 'Netaji was still alive and that he had gone to Russia'.
At least 24 boxes full of Gumnami Baba's belongings have been kept at the Faizabad Treasury.  
Who was Gumnami Baba
Gumnami Baba was a mysterious Indian monk who in 1985 lived at Ram Bhawan in Faizabad in Uttar Pradesh. Gumnami Baba, who had an uncanny resemblance with Netaji entered Uttar Pradesh via Nepal and stayed in Ram Bhavan in Faizabad town. He breathed his last on September 16, 1985.
Many say that Netaji was then living as Gumnami Baba and was happy that the country had gained independence, but thought the battle had been partially lost with the nation's partition.