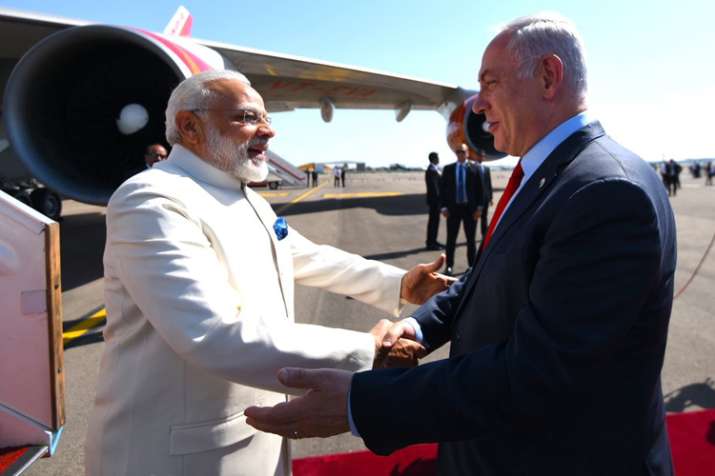 India believes in a two-state solution in which both Israel and a future Palestinian state coexist peacefully, Prime Minister Narendra Modi said on Monday, hours before he was to depart for the first visit by an Indian PM to the Jewish nation. Israel has rolled out a red carpet for Modi with Prime Minister Benjamin Netanyahu welcoming him personally and may accompany his Indian counterpart during his three-day stay. 
The visit is historic in many ways. More so for Israel which is looking for new allies beyond the USA and European nations. It also comes at a time when Israel is facing diplomatic pressure after expanding settlements in occupied Palestinian territory. Only in December last year, the United Nations Security Council (UNSC) passed a resolution against the settlements. 
At this point in history, Israel needs partners and not just friendly relations. Its relationship with the US is anything but that as it heavily relies on military and civilian aides than trade. However, with India, Tel Aviv can partner on every front, from technology to innovation, from terrorism to defence, from culture to education. The relationship comes with no riders, but that is expected in such a partnership. India will have to support Israel on diplomatic fronts, most importantly on its occupation of Palestinian land and on accusations of human rights violations in Gaza and the West Bank. 
The visit also comes at a time when the two countries are marking 25 years of diplomatic relations and close to the heels of 50 years of Six-Day war during which Israel captured the Gaza Strip, Sinai Peninsula, the West Bank and the Golan Heights. 
India's foreign policy has historically been tilted towards the Palestine, partially due to its roles in Non-Aligned Movement (NAM) and close relationship with Russia and partially due to domestic politics. India's first Prime Minister Jawahar Lal Nehru framed Independent India's relationship with Israel based on a priority accorded to Palestine and argued that he would not tolerate imperialism in Palestine.
While India formally recognised Israel as a sovereign nation in 1950 after the United Nations did so, it had no diplomatic relations before 1992. Ever since, there have been many visits from India to Israel but the tradition has been to visit both the Israel and the Palestine, up until now.
 
Modi will not just be the first Indian PM to visit Israel, he will also be the first high-ranking Indian official who will abstain from visiting Palestine during the visit. President Pranab Mukherjee made stops at both sides during his visit in October 2015. A few months later, Minister of External Affairs Sushma Swaraj followed suit and visited both Israel and the Palestine during the trip. 
Thus, the visit by Modi will mark a shift from the long-standing policy that governed India's approach to the conflict between Israel and Palestine. A joint statement on terror Modi and Netanyahu will make an indirect reference to Pakistan in India's neighbourhood and the Palestine in Israel's, a much-needed boost to Tel Aviv's attempts to equate an armed struggle against occupation with Islamist ideology-driven terrorism. 
Modi may have expressed his commitment towards the two-state solution but his support to Israel will surely provide Tel Aviv a much-needed legitimacy to its occupation of Palestinian territory and subsequent Jewish settlements. Meanwhile, in the eyes of the global community, it will only weaken India's resolve to peaceful and respectful two-state solution.