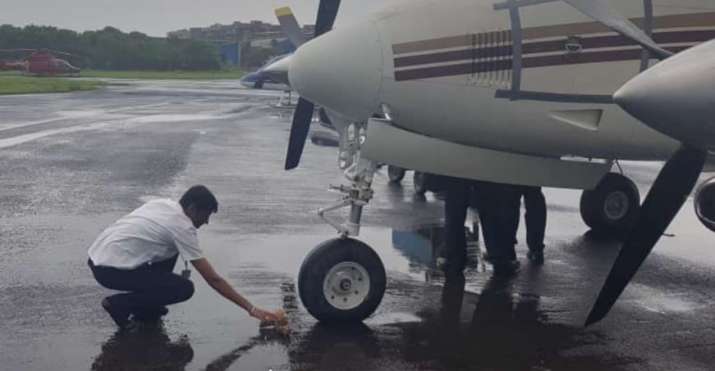 After a brief puja for the success of its maiden flight following a long repair session, 12-seater Beechcraft King Air C90 aircraft took off for a test run from Juhu airstrip in Mumbai on Thursday afternoon. Six minutes after take off, the ill-fated plane crashed into a densely populated area in Ghatkopar area killing all four on board and a person on the ground. Luckily, the aircraft missed a housing society by a few metres and crashed into an under-construction site.
The aircraft, which was owned by the Uttar Pradesh government before it decided to sell it off in 2014 to Mumbai-based U Y Aviation Pvt Limited, had been grounded for years. After undergoing extensive repairs for over a year and a half, the ill-fated plane was made to go on a test flight.
The aircraft gave no distress or "Mayday" to the air traffic control which indicates that things inside the cockpit of the plane went out of control suddenly. The aircraft's Flight Data Recorder or Black Box has been retrieved and the actual cause of the crash can only ascertained after a detailed investigation.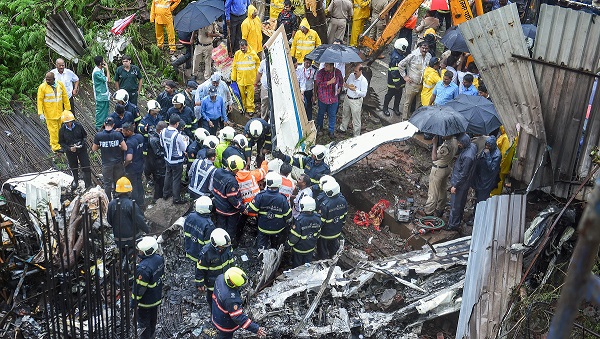 Anil Chauhan, accountable manager of UY Aviation, told Times of India that the plane was under the maintenance by another company - Indamer. "The aircraft was not yet handed over to us, it did not have a certificate of airworthiness," the newspaper quoted Chauhan, as saying.
Confirming that the aircraft last flew in February, 2008, the Civil Aviation Ministry said the certificate of airworthiness was yet to granted.
"UY Aviation Pvt Ltd King Air C-90 aircraft VT-UPZ has met with an unfortunate accident at Mumbai on 28 Jun 2018. The aircraft last flew on 22 Feb 2008 when it was with UP Govt. The aircraft was later bought by M/s UY Aviation in 2014. Thereafter, the aircraft was under maintenance for last one and a half years. Today was the first test flight of the aircraft upon completion of maintenance task before applying for grant of Certificate of Airworthiness/ Airworthiness Review Certificate by DGCA," the Civil Aviation Ministry said in a series of tweets. 
Pilots Maria Zuberi, 48, and Pradeep Rajput, engineer Surabhi Brijeshkumar Gupta, 34, technician Manish Tejpal Pande, 21 and pedestrian Govind Pandit were killed in the crash. Captain Pradeep Rajput had over 5,000 hours of flying experience and Captain Mariya Zuberi was formerly with Jet Airways.
Engineer Surabhi, who was more than two months pregnant, and her colleague, aircraft junior technician Manish Pandey, both were employees of Indamer Aviation Pvt Ltd (IAPL).
Watch: 5 killed in plane crash om Mumbai's Ghatkopar 
(With inputs from agencies)