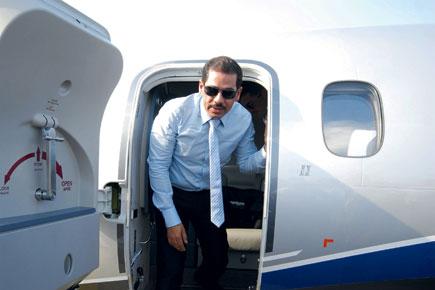 Robert Vadra, the son-in-law of Congress President Sonia Gandhi,today said that the central government headed by Prime Minister Narendra Modi should take every step to save the life of Kulbhushan Jadhav.
Kulbhushan Jadhav has been sentenced to death by Pakistan's military court on charges of "involvement in espionage and sabotage activities against Pakistan".
Reacting to Jadhav's death sentence, Robert Vadra, in a Facebook post, said that prior to Jadhav, five other Indians arrested by Pakistan lost their lives awaiting justice.
"Five Indians before Jadhav, were arrested by Pakistan on charges of spying and they died, awaiting justice, in Pakistani jails according to media reports," Vadra said.
Referring to government's decision not to send back 12 Pakistan prisoners in the wake of death sentence awarded to Jadhav, Vadra wondered whether this was all Indian government could do.
"In retaliation, our govt has decided to not send back, 12 Pak prisoners. Is that all we can do for the Indians held by Pakistan ??!!For the sake of entire nation, the Government should take every step to save Jadhav's life," he said.
  Rober Vadra took a jibe at Prime Minister Narendra over his Pakistan visit which, according to him,  failed to bring the two nations closer.
"I thought with the stop overs n celebrations of our premieres, we would have closer relations ...," he said.
"There is only one voice in India right now .... #SaveKulbhushanJadhav," he added.