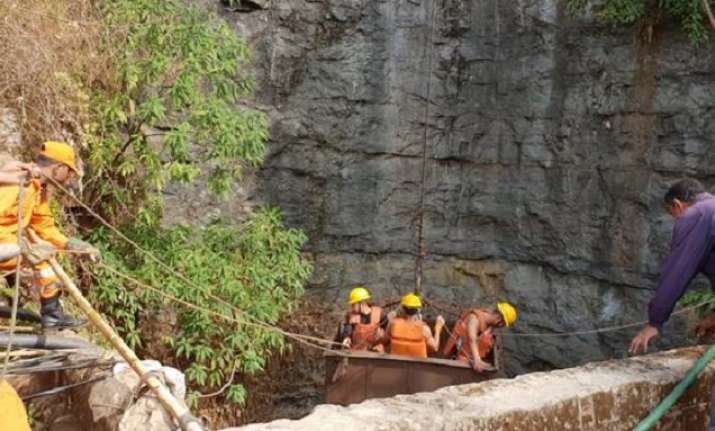 A massive rescue and search operation is on to pull out 13 people who are trapped inside an illegal 'rat hole' coal mine in a remote part of Meghalaya since last two days. Teams of NDRF and state police involving about 100 personnel are trying to reach the trapped people inside the the mine which is said to be 320-feet deep since last couple of days but all efforts have failed to yield any positive result. 
Rescue teams are using high-power pump to flush out water of the mine.
Two teams of the National Disaster Response Force (NDRF) consisting of over 60 personnel reached Lumthari area in East Jaintia Hills area on Friday morning, while 12 personnel from the State Disaster Response Force (SDRF) are already at the site.
"We are trying to pump the water out from the mine which is about 370 feet deep. The water level is about 70 feet according to the NDRF," Police DIG (eastern range) A R Mawthoh told PTI.
However, the water level has not gone down and two more pumps would be put to service later in the day, East Jaintia Hills district SP Sylvester Nongtynger, who is supervising the operation, said. NDRF divers will also make an attempt to reach the trapped miners, the DIG said.
Water from nearby Lytein river gushed inside the mine at Ksan village under the jurisdiction of Saipung police station on Thursday. However, there is confusion about the exact number of stranded miners, a some locals claimed that five people came out of the mine after it was flooded. But the five could not be traced till now.
"The police reached at the figure 13 after talking to the local people, and as of now, the number is still 13. But it may change if we get confirmation about a fresh figure," the SP said.
The National Green Tribunal has banned unscientific and unsafe rat-hole coal mining in Meghalaya in 2014.
(With inputs from agencies)