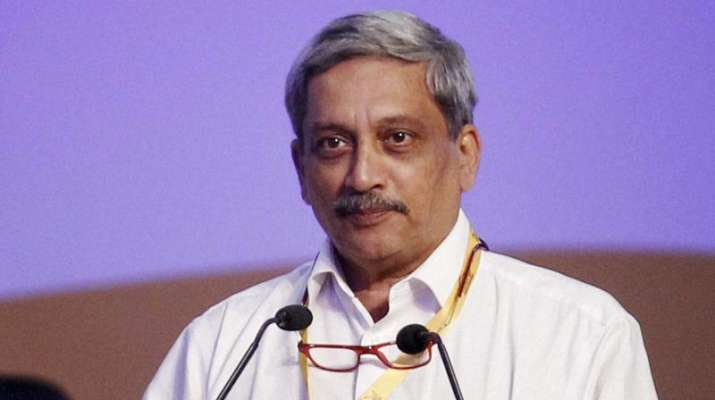 Goa Chief Minister Manohar Parrikar, who is currently admitted to a private hospital in Mumbai, would fly to the US this evening for further medical treatment as he has developed "some complications", state Assembly Speaker Pramod Sawant said on Wednesday.
Parrikar, 62, will be flying to the US at 5 pm, Sawant told reporters in Panaji.
"Some complications have developed due to which Parrikar is going to the US for treatment. His condition is stable and we need not worry," he said.
Sawant said the chief minister was expected to be back in Goa within a week.
Catch all the latest news about Lok Sabha elections 2019 HERE
The chief minister underwent treatment in the US for three months earlier this year for a pancreatic ailment and returned in June. He went there again for a follow-up earlier this month.
He was admitted to the Lilavati Hospital in Mumbai for a review health checkup on August 23, a day after he returned from the US, and was scheduled to return to Goa on Wednesday.
A senior official in the Chief Minister's Office said this morning that Parrikar would leave for the US from Mumbai in a flight later today.
"The official charge of the post of chief minister will remain with him (Parrikar). There is no need to hand over the charge to anyone," he said.
BJP's Goa spokesperson Siddharth Kuncalienkar said Parrikar developed some indigestion problem while travelling. "He will go to the US, consult doctors and will return soon. I believe he will be there for a short stay."
Union AYUSH Minister Shripad Naik said BJP Goa unit chief Vinay Tendulkar would meet Parrikar at the hospital to get some clarity on who would be holding the charge of the state in his absence.
"It is the chief minister's prerogative and there is no clarity on who would hold the charge in his absence. Vinay Tendulkar will be going to Mumbai to meet Parrikar and only after that we will get clarity on it," Naik said. He added that Parrikar's condition was stable and he was going to the US for medical advice.
An official at Mumbai's Lilavati Hospital, meanwhile, said Parrikar had been admitted since last week and needed further treatment as he was having some digestion-related issues. "The problem with his digestive system surfaced a couple of days back. After initial treatment, it was decided to shift him to the US again."
It was a joint decision by doctors in Mumbai and the US in consultation with the chief minister's family members, the official added.
Parrikar's relatives arrived in Mumbai this afternoon to meet him before he leaves for USA, a BJP leader said.