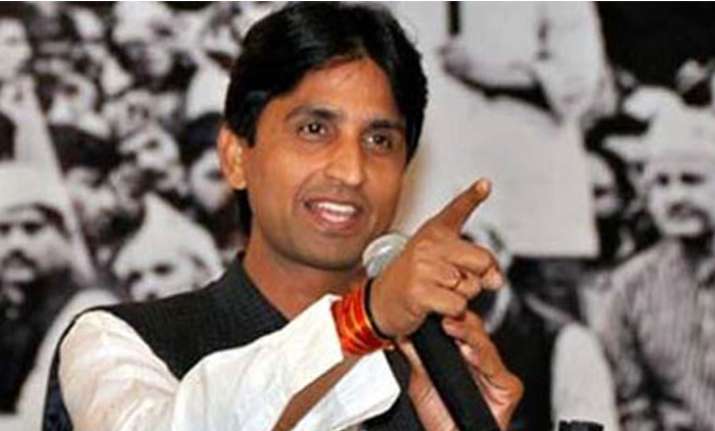 Patidar Anamat Andolan Samiti (PAAS) leader Hardik Patel on Tuesday suggested that Aam Aadmi Party should nominate Kumar Vishwas for Rajya Sabha seat as 'was the only leader who could take on fake nationalists in the House'.
Accusing unknown AAP party members of being insecure of Kumar Vishwas' stature,  Patel said if he is not nominated, the party will miss an opportunity. 
"Sansad mein agar koi ek aadmi farzi rashtravadiyon ko chup kra sakta hai to woh @DrKumarVishwas hai par pata nai @AamAadmiParty mein kise unke kad se asuraksha hai ki party aur mauka dono ko khatam karne par tule hain? (If anyone can silence fake nationalists in Parliament then it is Kumar Vishwas. Don't know who in Aap Aadmi Party is so insecure of his stature that they are after ruining both party and chance?)," Patel tweeted.
संसद में अगर कोई एक आदमी फ़र्ज़ी राष्ट्रवादियों को चुप करा सकता हैं तो वो @DrKumarVishwas है पर पता नहीं @AamAadmiParty में किसे उनके क़द से असुरक्षा है कि पार्टी और मौक़ा दोनों को ख़त्म करने पर तुले हैं?

— Hardik Patel (@HardikPatel_) January 2, 2018
Hardik Patel rose to prominence with massive protests in demand of reservations for the Patel community in Gujarat. In recent state assembly elections, his faction supported Congress, a nemesis of AAP. 
Meanwhie, according to reports the Arvind Kejriwal-led party has finalised three names to send for Rajya Sabha nominations an Vishwas is not one of them. The reports said that AAP has decided to send Sanjay Singh, a member of its Political Affairs Committee, Sushil Gupta, a businessman-cum-social worker, and ND Gupta, a chartered accountant to the Rajya Sabha. 
The Political Affairs Committee, the party's highest decision-making body, is set to meet on Wednesday once AAP convener and Delhi Chief Minister Arvind Kejriwal returns to Delhi from Andamans along with Deputy Chief Minister Manish Sisodia. They are likely to endorse the candidatures.