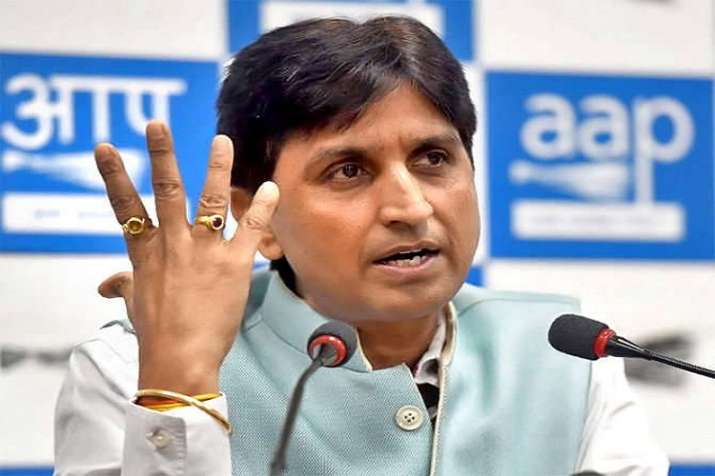 The rift within the Aam Aadmi Party (AAP) widened further on Wednesday as the party removed ' rebel' leader Kumar Vishwas from the post of Rajasthan incharge. Vishwas, who has been sidelined by the party since last several months, has been replaced by Deepak Bajpai. Bajpai currently holds the post of national treasurer in the Arvind Kejriwal-led party. The decision to remove Vishwas was taken in a meeting of AAP's Political Affairs Committee (PAC). Sources said Vishwas was removed from the post on the pretext that he was unable to devote much time to party affairs in Rajasthan where Assembly elections are due later this year. 
Vishwas is said to be miffed with the AAP leadership ever since he was ignored for Rajya Sabha membership by the party. He openly challenged Kejriwal's leadership abilities on a number of occasions, however, the AAP leadership has paid little attention to his defiance.
"AAP does not belong to a coterie of two or three persons, it belongs to lakhs of workers waiting outside," Kumar Vishwas had said on Rajat Sharma's show Aap Ki Adalat which was aired in January.
"Two or three persons may be speaking out against me, the common party worker may be addressing any leader as 'ji', but he addresses me as 'Kumar bhaiya', and this is my strength in the party," Vishwas said.
Here is what Kumar Vishwas tweeted after being sacked from the post of AAP's Rajasthan in-charge
तुम निकले थे लेने "स्वराज"
सूरज की सुर्ख़ गवाही में,
पर आज स्वयं टिमाटिमा रहे
जुगनू की नौकरशाही में,
सब साथ लड़े,सब उत्सुक थे
तुमको आसन तक लाने में,
कुछ सफल हुए "निर्वीय" तुम्हें
यह राजनीति समझाने में,
इन "आत्मप्रवंचित बौनों" का,
दरबार बना कर क्या पाया?😳https://t.co/mbG1wvgKJ0

— Dr Kumar Vishvas (@DrKumarVishwas) April 11, 2018
हम शब्द-वंश के हरकारे,सच कहना अपनी परम्परा
हम उस कबीर की पीढ़ी,जो बाबर-अकबर से नहीं डरा
पूजा का दीप नहीं डरता,इन षड्यंत्री आभाओं से
वाणी का मोल नहीं चुकता,अनुदानित राज्य सभाओं से
जिसके विरुद्ध था युद्ध उसे,हथियार बना कर क्या पाया?
जो शिलालेख बनता उसको,अख़बार बना कर क्या पाया?😳👎 https://t.co/koUnDmuiSi

— Dr Kumar Vishvas (@DrKumarVishwas) April 11, 2018
On January 3 when the AAP named veteran leader Sanjay Singh, businessman Sushil Gupta and chartered accountant Narain Dass Gupta as its debutants for the Rajya Sabha, Vishwas had expressed his disappointment over not being considered for the Upper House and claimed he was being "punished" for speaking the truth.
Poet-turned-politician Vishwas in the TV show listed out several instances in the recent past when he was sidelined by the party leadership.
Watch: Kumar Vishwas on Aap Ki Adalat in January, 2018