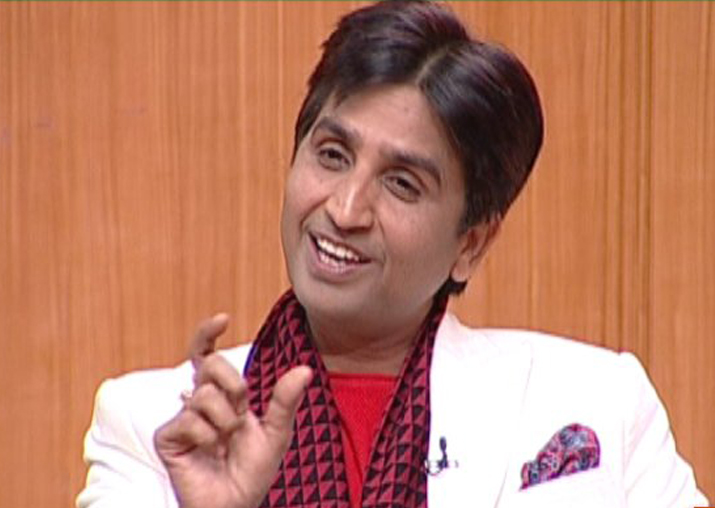 Disgruntled Aam Aadmi Party (AAP) leader Kumar Vishwas has hit out at the party leadership over exclusion of his name in the list of three nominees for the Rajya Sabha which was declared earlier this week.
Appearing on India TV Chairman and Editor-in Chief Rajat Sharma's weekly show, Aap Ki Adalat, the poet-turned-politician expressed dissatisfaction over the party's Political Affairs Committee (PAC) decision not to invite him for the meeting to finalising the names.
He said that crores of AAP volunteers will never forgive CM Arvind Kejriwal's 'coterie', adding that he is being punished for speaking truth. 
"If a group of two or three people continue to run the Aam Aadmi Party, crores of workers will never forgive them," he said.
"I pray to god that, god should save these people from arrogance and their workers," he added.
"The matter is not about Rajya Sabha. From last seven months, I am just a pawn. Someone else is the Sivagami Devi (a character in Bollywood movie Baahubali) of this Mahishmati who is time and again brining a new Katappa (another character from Baahubali) to get Baahubalis like me killed," he replied to a question.
Hitting out at Shushil Gupta, whom the AAP has nominated for the Rajya Sabha, Vishwas said, "During the Delhi elections, the Congress had fielded him. At a crossover of rally, he had brandished victory sign and smiled at me. At that time, I had roared that people will make him bite the dust and he suffered defeat."
The AAP leader also congratulated the Congress for getting its defeated candidate nominated for Upper House.
"I would like to congratulate the Congress party… the party which failed to win even a single seat, has managed to get its defeated candidate elected to the Rajya Sabha. We should learn politics from the Congress," he said.
"The whole nation is watching (whatever is happening to me), lakhs of party workers are watching, this will definitely end, these people are living in an imaginary world of themselves," he opined.
Vishwas has been at loggerheads with the party's bigwigs from last year over various issues. Earlier this week, when the AAP had announced there Rajya Sabha nominees, Vishwas had said that he was ready to fight his battle alone as a 'martyr' after being punished and rewarded for speaking the truth.
The three names that were announced by the AAP are: Sanjay Singh, businessman Sushil Gupta and chartered accountant Narain Dass Gupta.
Three Rajya Sabha seats from Delhi will fall vacant by the end of this month when the tenure of Congress members Janardhan Dwivedi, Parvez Hashmi and Karan Singh end. 
It would be for the first time that the AAP, which officially has 66 members in the 70-member Delhi Assembly including some dissidents, will elect members to the Upper House. The Congress has no presence in the House. 
Elections to three Rajya Sabha seats from Delhi would be held on January 16.
Watch Kumar Vishwas on Rajat Sharma's show Aap Ki Adalat on Saturday at 10 pm on India TV. The repeat telecast will take place on Sunday at 10 am and 10 pm.