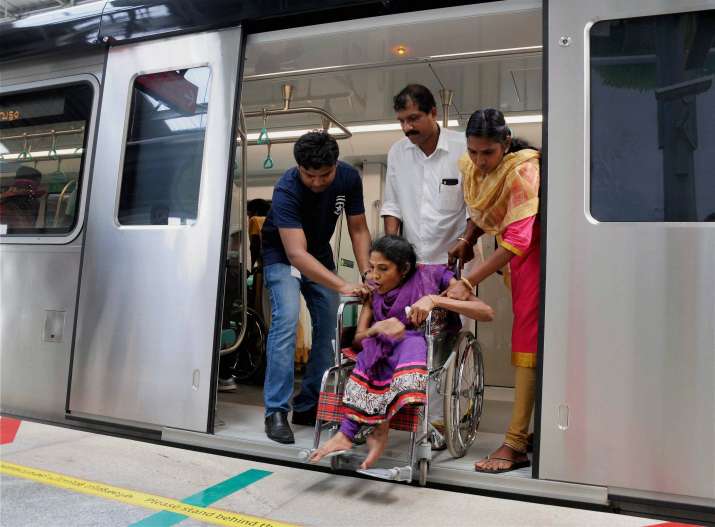 Kochi Metro, which was inaugurated by Prime Minister Narendra Modi on Saturday, started its commercial operations on Monday morning. Kochi residents thronged the stations as early as 4.45 am but first trains carrying commuters started from Aluva and Palarivattom from 6 am. 
The headway would be 8.20 minutes and there would be 219 trips between 6 AM and 10 PM, a Kochi Metro Rail spokesperson said yesterday.
The first passengers to enter the Metro train at Palarivattom station reached the premises as early as 4.45 am, the Times of India reported. Latha S Pillai, a school teacher, her husband Gireesh Kumar and their children Devi Krishna and Bhadra Krishna were the first commercial passengers of the Kochi Metro.
Kochi Metro Rail Corporation had yesterday organised "Sneha Yatra" for 1,550 persons including nearly 450 children with physical and cognitive disabilities from special schools, children from orphanages and inmates from old age homes.
Also Read: Disabled friendly coaches, women at forefront: 10 facts to know about Kochi Metro
They also organised a special yatra for workers who built the system for the city. Their family members were also invited for the journey.
KMRL had honoured hundreds of labourers who worked hard by giving them traditional Kerala Sadya (feast), prior to the inauguration.
The new transport system is expected to enhance the quality of life for the Greater Kochi metro area by improving regional connectivity and reducing overcrowding, traffic congestion.
Modi had enjoyed a ride on Kochi Metro on Saturday along with dignitaries, including Governor P Sathasivam, Chief Minister Pinarayi Vijayan, Union Urban Development Minister M Venkaiah Naidu and "Metro man" E Sreedharan.
Kochi Metro Rail Limited is a 50:50 Joint Venture of Government of India and Government of Kerala. The Centre has so far released over Rs 2,000 crore for the project. 
Then Prime Minister Manmohan Singh had laid the foundation of the project on September 13, 2012 and the construction began in June, 2013 during the tenure of the previous Congress-led UDF government headed by Oommen Chandy.
The first phase operates from Aluva to Palarivattom and covers 13.26 km and 11 stations.
In his inaugural speech, the Prime Minister had hailed the special features of the Kochi Metro.
It is the first metro project to be commissioned with a modern signalling system called the "Communication-Based Train Control Signalling system." 
The coaches reflect the Make in India vision. 
They have been built by Alstom of France, at their factory near Chennai, and have an Indian component of around seventy per cent.
(With PTI inputs)