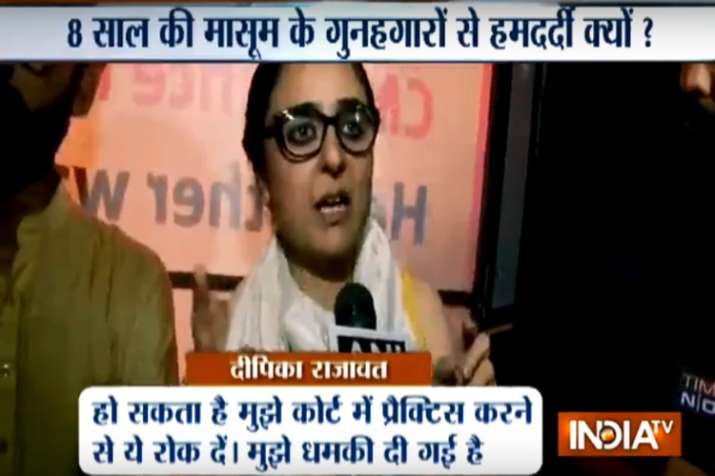 Hours before the first trial in the Kathua rape and murder case begins today, the lawyer of the eight-year-old victim on Sunday said that she fears for her life as may get raped or murdered. 
"Today, I don't know, I am not in my senses. I can be raped, I can be killed and may be they won't allow me to practice in court. They (have) isolated me, I don't know how I can survive," said advocate Deepika Singh Rajawat. 
Rawat said that she has been called anti-Hindu and boycotted socially, adding that she would be approaching the Supreme Court to demand security for herself and her family.
"I will tell this to the Supreme Court. I am feeling bad and it's really unfortunate. You can well imagined my plight. But, I will stand for justice and we would seek justice for the eight-year-old girl," she said. 
The trial begins today in the case against eight accused who held an eight-year-old girl in captivity in a small village temple in Kathua district for a week in January this year during which she was kept sedated and sexually assaulted before being bludgeoned to death.
The Jammu and Kashmir government has appointed two special public prosecutors, both Sikhs, for the trial in the sensitive case, a move being seen as made to ensure "neutrality" in view of Hindu-Muslim polarisation over the case. 
The trial is expected to go smoothly after the Jammu Bar association as well as the Kathua Bar received a rap on the kuckles by the Supreme Court on April 13 as the apex court took a strong note of some lawyers obstructing the judicial process in the case.