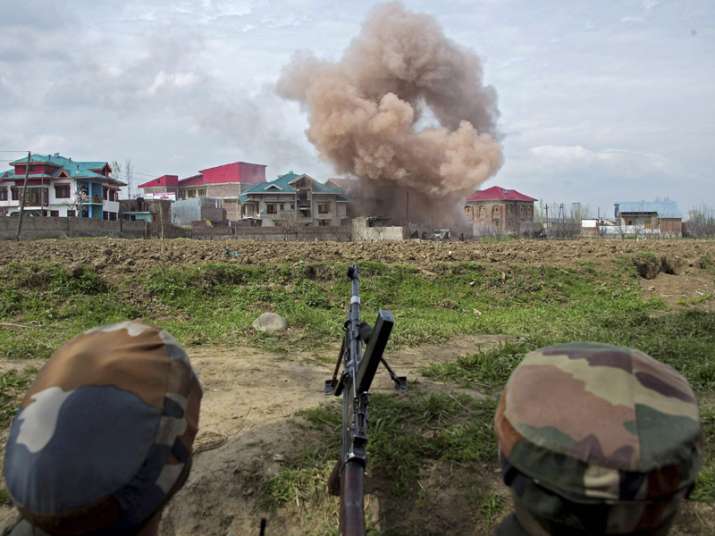 The Kashmir Valley on Sunday witnessed the funerals of two – a terrorist and a policeman. While the funeral of Azhar Mahmood – the policeman who sacrificed his life thwarting a terror attack – was attended by his family and colleagues. 
On the other hand, the funeral of Fayaz Ahmad Aishwar – a member of Hizbul Mujahideen – was attended by thousands of Kashmiris. 
The slain ultra was even paid "respect" by four Lashkar-e-Taiba (LeT) terrorists who fired a volley of bullets from their rifles in Reshipora in Kulgam district of south Kashmir on Sunday. 
This was a rare occasion when terrorists were present to attend the funeral of their dead cohort, and even rarer to expose themselves by publicly displaying such support. 
Three civilians and a cop were also killed in the militant attack. 
Ahmed, a resident of Qaimoh area of Kulgam, was wanted by the National Investigation Agency (NIA) for his role in a suicide attack on a BSF convoy at Udhampur, in which two force personnel were killed and 11 others were injured, in 2015. 
He had been been on the run since August 2015. 
At least four militants appeared in the crowd during Ahmed's funeral and offered gun salute to him by firing in the air from their AK-assault rifles, police officials said. 
The militants raised some slogans and then fled, the officials said. 
The incident comes just a couple of days after security forces carried out a major combing operation in the neighbouring Shopian district to flush out militants. 
There have been several instances of militants appearing at the funerals of slain associates in recent times, in what appears to have taken the shape of a disturbing trend. 
Ahmed, who carried a cash reward of Rs two lakh on his head, was active from last two years and was involved in many subversive activities, a police spokesperson said here this evening. 
"He remained active in his local area and motivated youth to join militant ranks. He used to provide logistic support for safe passage of militants and their associates," the spokesman said. 
Giving details of the incident, the official said the police post at Mir Bazar received an information yesterday regarding a vehicular accident near Alstop on the Srinagar- 
Jammu national highway. 
Immediately a police team of police post Mir Bazar, headed by in-charge sub-inspector Safdar Hussain, rushed to the spot for the evacuation of injured person in the accident and to restore the traffic, he said. 
"Taking advantage of the traffic jam, terrorists fired upon the police party with an intention to kill them, 
resulting in injuries to two policemen and four civilians. 
"The fire was retaliated by the police party in which one Hizbul Mujahideen militant (Ahmed) got killed," the spokesman said. 
A pistol along with a magazine, eight bullets and a grenade were recovered from the slain militant, he said. 
He said among the injured, policeman Mahmood Ahmed, three civilians Suhail Nabi Bhat, resident of Badipora Tral, Niyaz Ahmad Mir, resident of Malpora Kulgam, and Hem Raj Sharma, resident of Samba in Jammu, succumbed to their injuries.