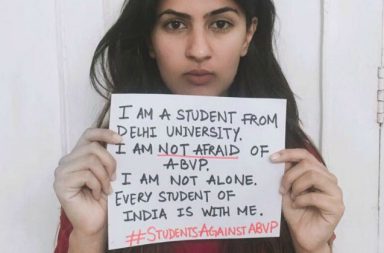 Gurmehar Kaur, the daughter of a Kargil martyr who has stirred up a storm with her online campaign against the ABVP, today moved the Delhi Commission for Women (DCW), claiming that she has received "rape threats" allegedly from the RSS' students wing members after she initiated her campaign following the violence at Ramjas college.
The campaign by 24-year-old Delhi University student Kaur titled "I am not afraid of ABVP" has gone viral and received massive support from students across various universities.
Taking the matter forward, DCW chief Swati Maliwal has written to Delhi Police Commissioner Amulya Patnaik, informing him of the matter.
"The Commission is of the view that urgent criminal action needs to be taken against the abusers. Ms. Kaur has also requested for police protection for herself and her family. Considering the gravity of the situation and the threats received, the Commission believes that her request has merit. It is therefore strongly recommended that the girl and her family be provided immediate police protection," Maliwal has written. 
The student has said in her compliant to the DCW that ABVP members allegedly issued "rape" threats on social media after she condemned "violence in name of nationalism" in wake of the Ramjas incident.
"This is not about politics, this is about students and campuses. Nobody can threaten a woman with rape," she said.
Kaur, daughter of Kargil martyr Captain Mandeep Singh, had last week changed her Facebook profile picture holding a placard which read, "I am a student from Delhi University. I am not afraid of ABVP. I am not alone. Every student of India is with me. #StudentsAgainstABVP".
"The brutal attack on innocent students by ABVP is very disturbing and should be stopped. It was not an attack on protesters, but an attack on every notion of democracy that is held dear in every Indian's heart.
"It is an attack on ideals, morals, freedom and rights of every person born to this nation," she had said in a Facebook status.
The literature student's classmates and peers started sharing the post, prompting students from various universities across the country to change their profile pictures with the same placard, as the initiative went viral.
Ramjas college had last week witnessed large-scale violence between members of the AISA and the ABVP. The genesis of the clash was an invite to JNU students Umar Khalid and Shehla Rashid to address a seminar on 'Culture of Protests' which was withdrawn by the college authorities following opposition by the ABVP.
(With PTI inputs)