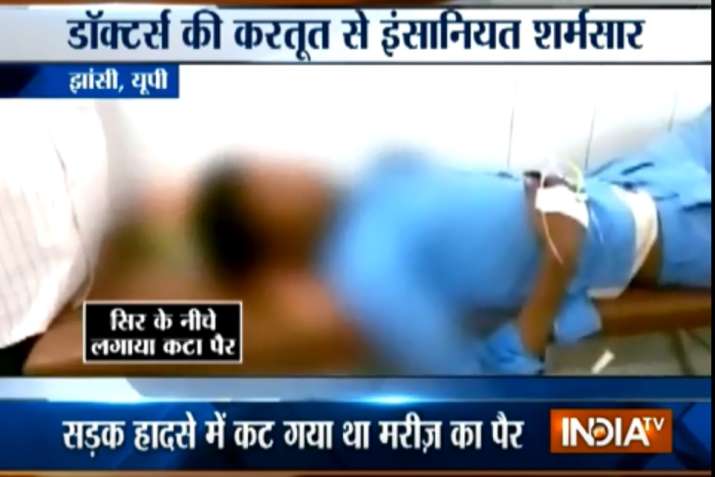 In a gruesome incident, a UP man was allegedly forced to use his own severed limb as a pillow by a hospital. 
According to reports, the man, 25-year-old Ghanshyam, was brought to the hospital after getting seriously injured in a road accident. He used to work as a help on a school bus that met with an accident on Saturday morning while trying to avoid a collision with a tractor. The bus had overturned, injuring around half a dozen students and Ghanshyam.
He was rushed to the Jhansi medical college, about 45 Kms away where doctors who operated on him amputated his leg and then placed it under his head as a rest, his relatives have alleged. 
"When we reached the hospital, we saw his leg being used as a headrest. I repeatedly asked the doctors on duty to intervene but they refused," alleges Janaki Prasad, a relative who was among the first to reach the hospital.
However, the administration of the medical college claims that the severed limb was brought in by one the attendants of the patient and was not handed over properly. 
"The attendant who accompanied the patient from the accident spot propped it under his head, perhaps for safe keeping. But if the mistake has been done from our end, a strict action will be taken," said Sadhana Kaushik, principal of the medical college, adding that a probe has been ordered in the matter.
The Uttar Pradesh government said an enquiry has been ordered and strict action will be taken against those found responsible. Minister for medical education, Ashutosh Tandon ordered the suspension of emergency medical officer  Dr Mahendra Pal Singh, senior resident Dr Alok Agarwal and sisters on duty Deepa Narang and Shashi Srivastava have been suspended from duty.
Watch video: Insane ! Amputed leg of the patient used as pillow at Jhansi hospital, 4 suspended