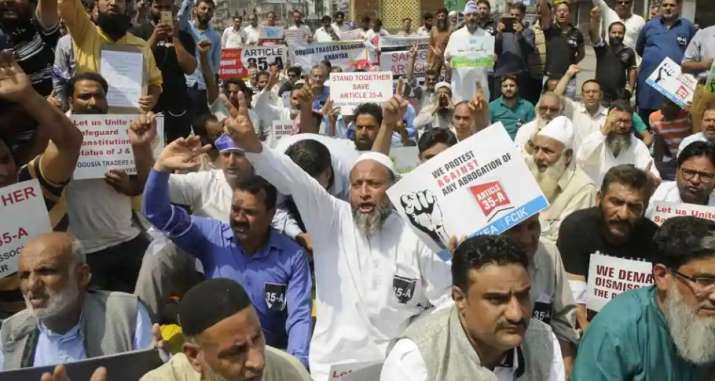 Separatists on Friday deferred the two-day strike to protest against any sort of tinkering with Article 35-A of the Constitution to August 30 as the case has been listed for hearing  on August 31 in the Supreme Court.
Joint Resistance Leadership (JRL), consisting of Syed Ali Shah Geelani, Mirwaiz Umar Farooq and Mohammad Yasin Malik, had on August 17 called for a two-day strike from August 26, but the strike has now been deferred to the end of the month.
"As the Supreme Court of India is now hearing the case challenging the state subject law of J&K on 31st August as such the statewide protest hartal by JRL (Joint Resistance Leadership) against this nefarious move will now be observed on 30th & 31st Aug. However protests by different segments of society will continue," Mirwaiz wrote on Twitter. 
Incorporated into the Constitution in 1954, Article 35A is a provision that gives special rights to Jammu and Kashmir's permanent residents. It bars people from outside the state from buying or owning immovable property there, settle permanently, or avail themselves of state-sponsored scholarship schemes. It also forbids the J-K government from hiring people who are non-permanent residents. The provision mandates that no act of the legislature coming under it can be challenged for violating the Constitution or any other law of the land. Article 35A was added to the Constitution through a presidential order of 1954 with the then J&K government's concurrence.