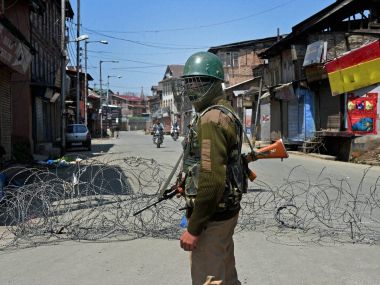 Pakistan-based terror group Hizbul Mujahideen has claimed that a Special Police Officer (SPO), who was missing since Wednesday morning, has joined militant group. In a tele-statement, the operational spokesperson of the terror organisation, Burhan-u-Din said, "SPO Irfan Ahmad Dar, a resident of Nehama Kakapora of south Kashmir's Pulwama district has joined Hizb-ul-Mujahideen." The officer had gone missing along with an AK-47 rifle from Pampore police station.
The spokesperson also quoted Hizbul's field operational commander Mohammad Bin Qasim, as saying, "We appeal all Jammu and Kashmir police cadres to give up their job and join Hizbul Mujahideen to give a push to the resistance struggle."
Earlier this month, 44 Rashtriya Rifles jawan Aurangzeb was first abducted and then killed by militants when he was on his way home to celebrate Eid.  His murder provoked strong reactions across the country.
Also Read: Terrorists release last video of martyred soldier Aurangzeb before he was killed
(WATCH VIDEO) Sukhoi Su-30MKI aircraft crashes near Nashik, both pilots ejected safely