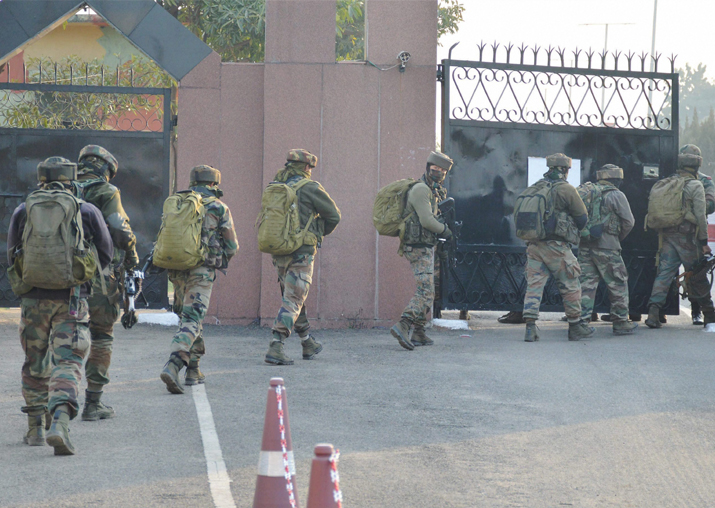 The ruling and opposition parties in Jammu and Kashmir today condemned the terror attack on the Sunjuwan Army camp here with ruling BJP demanding a probe to investigate the role of Rohingya settlers. 
The BJP, which is the junior partner in the PDP-led government, said the circumstances reveal the attack could have been executed with local aid and as such it is imperative to apprehend all involved. 
"The role of Rohingya settlers near the Sunjuwan area is also required to be seriously investigated and it is no time to protect persons inimical to country in the name of religion," BJP Chief Spokesperson Sunil Sethi said in a statement. 
Sethi asked Chief Minister to have a relook on the "soft policy" towards stone-pelters and militants and their supporters-- whether underground, overground or political. 
"The attack has exposed fragile security set up around Jammu which has to be addressed on priority to provide safety and security to people," the BJP leader said. 
The Jammu and Kashmir Pradesh Congress Committee said the attack was an act of great provocation by the militants and their mentors across the border. 
"It is a very serious situation which needs a befitting response in every possible and appropriate manner. It also raises serious questions over the Modi government's policy towards Pakistan and to deal with the prevailing situation as large number of our jawans and civilians are getting martyred and becoming targets of the designs of militants and Pakistan on borders and in the state," it said. 
National Conference President Farooq Abdullah and Working President Omar Abdullah also condemned the attack and expressed sympathies with the bereaved families. 
Stating that terrorism has no religion, Provincial President of National Conference Devender Singh Rana said violence has no place in a civilized society. 
The Jammu and Kashmir National Panthers Party (JKNPP) activists staged a protest at the Exhibition ground here and demanded imposition of the Governor's rule in the state in the wake of "worsening security situation and the prevailing anarchy". 
"The terror attacks in the state has become a routine affair with no virtual sign of governance but anarchy all across the State," the JKNPP said. 
The Shiv Sena also condemned the attack. 
Jaish-e-Mohammed terrorists today struck at an Army camp on the outskirts of Jammu city, killing two junior commissioned officers (JCOs) and injuring six others.