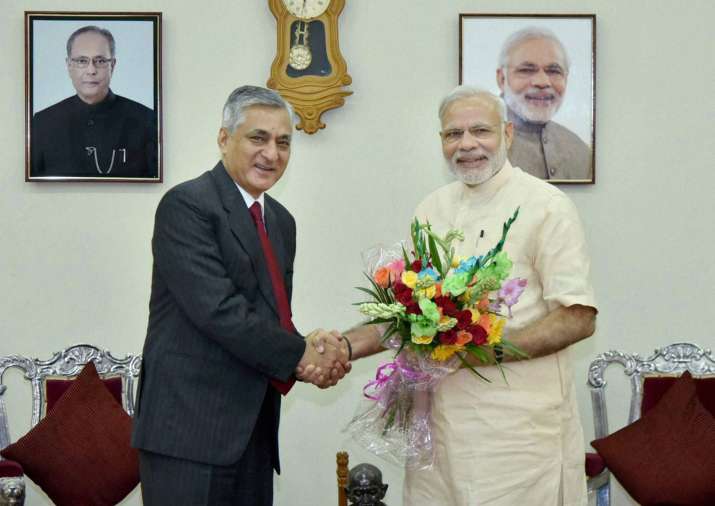 Most of the issues with the government over appointment of judges to the higher judiciary have been "sorted out" and the long-pending Memorandum of Procedure (MoP) is expected to be ready in a week or two, Chief Justice of India T S Thakur said today. 
CJI's statement came close on the heels of a breakfast meeting between him and Prime Minister Narendra Modi last week. 
"Most of the things have been sorted out. Some issues are there which need to be discussed. I think may be in a week or two, these issues will be sorted out. Efforts are on...," he said. 
The CJI was talking to reporters on the sidelines of an event when he was asked about the MoP. 
The MoP came out of the Supreme Court verdict quashing the National Judicial Appointments Commission Act and upholding the collegium system of appointments to higher judiciary. 
The government had recently acceded to some demands of the collegium including removing the cap on the number of jurists and lawyers who can be appointed to the apex court as judges. 
On Saturday, Justice Thakur drove to the Raj Bhavan in Gandhinagar and greeted Modi on his 66th birthday. The meeting between the two lasted about half an hour. 
"CJI Shri Thakur met Narendra Modi and extended birthday greetings to the Prime Minister," PMO India said in a tweet.
Delivering the 2nd Justice J S Verma Memorial Lecture, organised by National Broadcasters Association, CJI Thakur said Justice Verma was part of the bench which delivered the two verdicts setting in place the collegium system of appointments which he termed as "much maligned". 
On the importance of freedom of speech and expression and its evolution in the seven decades of Indian independence, he said, "Freedom of press is the freedom of the people" and "if media wants to be free it has to be fair". 
He said the power of the media is the public trust and referred to various apex court verdicts delivered over the years, including the 2016 judgement setting aside section 66A of the Information Technology Act, to emphasise upon the role played by the courts in upholding the freedom of speech and expression. 
Speaking about Justice Verma's contribution to law, the CJI said Justice Verma was the "chief architect" of the new anti-rape law which was formulated subsequent to the brutal December 16 gangrape that happened in the national capital and shook the nation. 
The CJI said Justice Verma submitted his 630-page draft on the new anti-rape law in "record 29 days" which Justice Thakur also termed as "remarkable". 
He also praised Justice Verma on his landmark Vishaka judgement against the harassment of women at workplace. 
The CJI also said that Justice Verma's term as head of the National Human Rights Commission heralded a "new regime in protection of human rights".
(With PTI inputs)