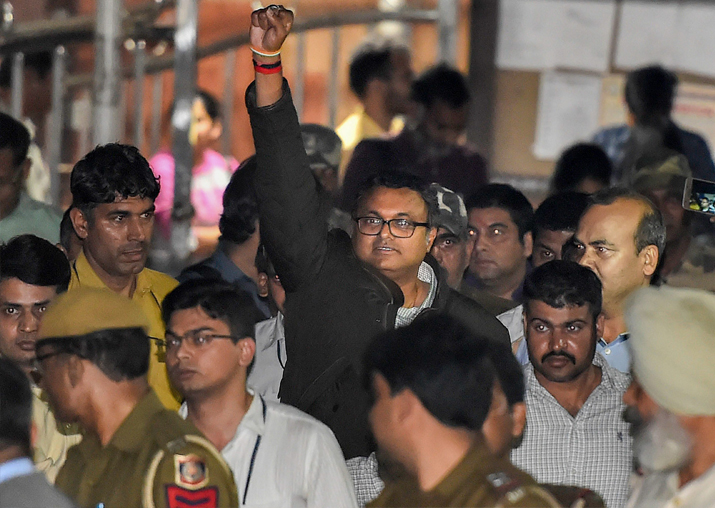 Karti Chidambaram, arrested in the INX Media bribery case, on Thursday expressed confidence that he would be "vindicated eventually".
"I have various petitions pending in courts. I will be vindicated eventually," he told reporters after he was remanded to CBI custody for five days.
Earlier, a Delhi court gave the CBI custody of former Finance Minister P Chidambaram's son for questioning till March 6 in connection with the case.
CBI Judge Sunil Rana gave the order after three hours of heated arguments between Karti's lawyer and the CBI counsel, who pleaded for 14 days custody, saying he needed to be questioned thoroughly in "a serious finance corruption case" which is not a political witch hunt or vendetta.
The Judge disallowed Karti's plea for home-cooked food but directed that he could be allowed medicines and a medical examination would also be done.
Appearing for the agency before the Central Bureau of Investigation (CBI) court, Additional Solicitor General (ASG) Tushar Mehta said Karti, who was arrested on Wednesday and sent for one day CBI remand, spent the whole night in the cardiac care unit of Safdarjung Hospital and came to the CBI only in the morning.
"He was only questioned for a few hours. It is amazing that despite no history of cardiac problem, doctors advised him to be in the CCU," Mehta said. 
He said one-day custody was not enough to question him and the CBI needed 14 days to interrogate Karti. 
P Chidambaram and his wife Nalini were present in the court during the hearing today.