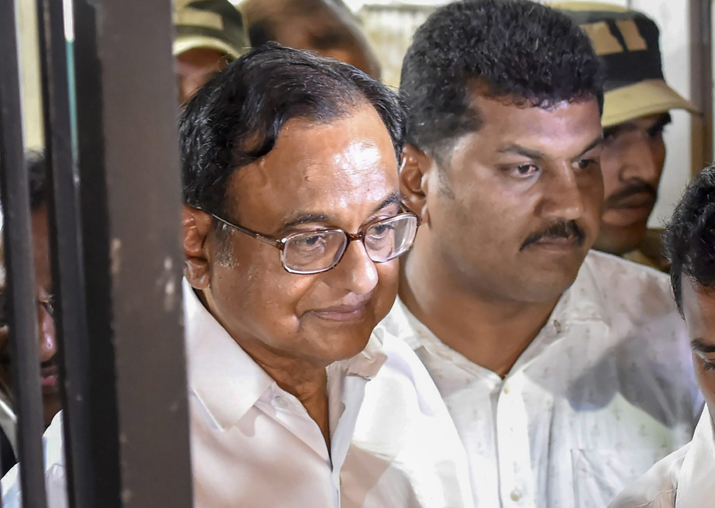 "Don't worry, I am there," former Finance Minister P. Chidambaram told his son Karti when he saw him in the CBI court where he was brought for extension of custody on Thursday in the INX Media alleged bribery case.
The senior Congress leader put his hand on his son's shoulder with his wife Nalini Chidambaram who was already in the court looking on.
The lawyer couple were present during the arguments that went on for more than three hours before CBI Judge Sunil Rana.
The Judge also permitted the parents to talk to Karti in the presence of the investigating officer during the brief break before passing the order on giving five-day custody of Karti to CBI.
However, the Judge in his order disallowed Karti's request for home-cooked food but allowed medicines and a health check up.
The CBI counsel, who pleaded for 14 days custody, said that Karti is needed to be questioned thoroughly in "a serious finance corruption case" which is not a political witch hunt or vendetta.
Appearing for the agency before the Central Bureau of Investigation (CBI) court, Additional Solicitor General (ASG) Tushar Mehta Mehta accused Karti and his father, who was then Finance Minister in 2008, connived with each other to get Foreign Investment Promotional Board (FIPB) clearance for the INX Media, headed by murder accused Peter and Indrani Mukherjea, which was earlier accused of serious violations in receiving overseas funds. 
The prosecution said Karti needed to be confronted with other accused, including his Chartered Accountant Bhaskar Raman, who is already in custody, and suspects in the case. There was need to travel to several cities for which 14 days custody would be required, he said.
Meanwhile, the court had earlier in the day reserved its order on a bail plea filed by Raman. Judge Rana said the order will be pronounced on March 7. 
Bhaskararaman sought bail on the ground that he was not required for custodial interrogation and no purpose would be served by keeping him in custody. 
The CA was sent to jail on February 26 on expiry of his custodial interrogation by the Enforcement Directorate (ED), which had arrested him on February 16 from a five-star hotel in the heart of the national capital.
With Agency Inputs