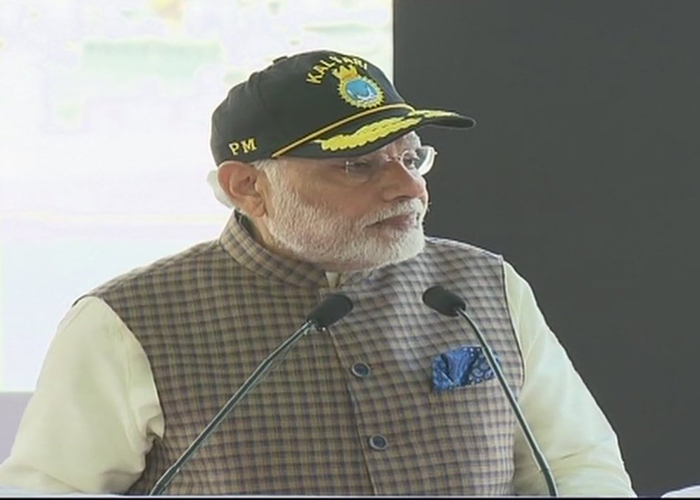 INS Kalvari, the first of the indigenous Scorpene-class submarines, was on Thursday commissioned into the Indian Navy by PM Narendra Modi.
This is the first conventional submarine to be inducted into the Indian Navy after more than 17 years even as the navy's submarine arm celebrates it golden jubilee in 2017.
Defence Minister Nirmala Sitharaman, Navy chief Admiral Sunil Lanba and Vice Admiral Girish Luthra, Flag Officer Commanding of the Western Naval Command, were also present at the event.
PM MODI DEDICATES INS KALVARI TO NATION: AS IT HAPPENED
# On the occasion, PM Modi said Kalvari is an excellent example of 'Make in India' and will boost the Navy's might. Our Navy is custodian of humanity in the Indian Ocean, he added.
#More than 200 terrorists have been killed in Jammu and Kashmir this year, there has also been a steep decline in stone pelting incidents.
Be it terrorism via sea, piracy, drug smuggling or illegal fishing, India is playing an important role in combating them: PM Narendra Modi pic.twitter.com/Qds1qBrrXV

— ANI (@ANI) December 14, 2017
#This is a fine example of the fast growing strategic partnership between India and France, says PM Modi.
#INS Kalvari, first-made-in-India Scorpene class submarine, commissioned into Navy by PM Modi.
#This is proud moment for all Indians, says PM Modi.
Mumbai: PM Narendra Modi to dedicate #INSKalvari to the nation shortly pic.twitter.com/P7y72Zf85n

— ANI (@ANI) December 14, 2017
#The submarines, designed by French naval defence and energy company DCNS, are being built by Mazagon Dock Limited (MDL) in Mumbai as part of Project-75 of the Indian Navy.
#"The technology utilised in the Scorpene has ensured superior stealth features such as advanced acoustic silencing techniques, low radiated noise levels, hydro-dynamically optimised shape and the ability to launch a crippling attack on the enemy using precision guided weapons," an official of the MDL said.
#Kalvari is named after the dreaded tiger shark, a deadly deep sea predator of the Indian Ocean.
#The first Kalvari, commissioned on December 8, 1967, was also the first submarine of the Indian Navy. It was decommissioned on May 31, 1996 after nearly three decades of service.
#WATCH: PM Modi dedicates INS Kalvari to the nation in Mumbai https://t.co/UV51XxM275

— ANI (@ANI) December 14, 2017