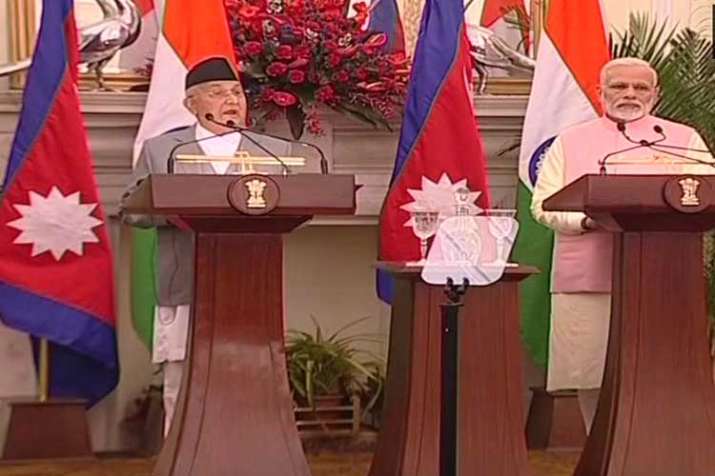 PM Narendra Modi and his Nepalese counterpart KP Sharma Oli on Saturday held extensive deliberations covering entire expanse of bilateral relationship and vowed to boost ties in key areas of defence and security, connectivity and trade. 
The prime minister assured visiting counterpart from Nepal that India is committed to curbing misuse of open borders between the two countries. "We have strong relations when it comes to the aspect of security and are committed towards stopping misuse of our open borders," he said in a joint address with the Nepal PM after delegation-level talks between the two countries at Hyderabad House.
PM Modi added cooperation between the two countries will enhance Nepal's democracy. 
HERE'S ALL YOU NEED TO KNOW: 
1. Modi also said the two countries agreed on laying a new railway line to link Kathmandu with India. 
2. India and Nepal have close ties in defence and security and will work together to stop misuse of their open border, PM Modi added.
3. On his part, Oli said, he has come to India to take the bilateral ties between the two countries to newer heights commensurate with the realities of the 21st century."We want to erect a strong edifice of trust-based relationship between the two close neighbours that we are," he said.
4. Oli arrived here on Friday on his first foreign trip after he returned to power for a second term in February. 
5. Ties between the two countries have been strained after border blockade in 2015, for which many in Kathmandu blame India, economically crippled the landlocked country.
6. The two leader earlier met for the delegation level talks and held discussions on further cooperation especially in trade and connectivity. 
7. External Affairs spokesperson Raveesh Kumar tweeted a picture of the two prime minister leading the talks between the two sides.
8. "Dialogue among friends! PM Narendra Modi and Prime Minister of Nepal KP Sharma Oli had a fruitful discussion to expand bilateral ties in all areas, especially in developmental cooperation, trade and investment, agriculture, energy, connectivity and people-to-people contacts," the spokesperson said.