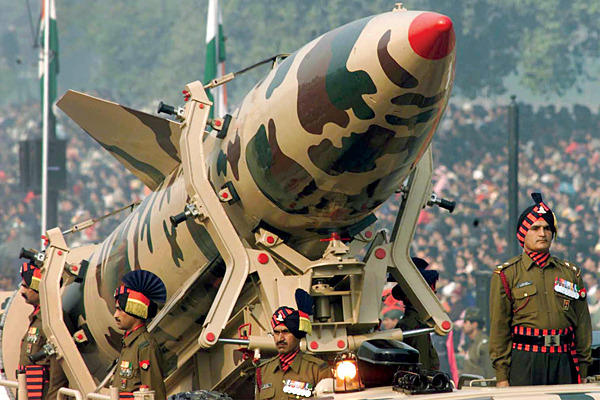 In what would be a notable reversal of its well-known no-first use policy, India could launch a preemptive first strike against Pakistan if it feared that a nuclear attack was imminent, a leading nuclear strategist has said.
However, this attack by India will not aim at urban areas and conventional targets, but against Pakistan's nuclear arsenal to pre-empt a nuclear attack altogether, Hindustan Times cited the strategist as saying in its report. 
"There is increasing evidence that India will not allow Pakistan to go first," said Vipin Narang, a nuclear strategist from the Massachusetts Institute of Technology, at a conference on nuclear policy hosted by Carnegie, a think tank. 
"India's opening salvo may not be conventional strikes trying to pick off just Nasr batteries (launch vehicles for Pakistan's tactical battlefield nuclear warheads) in the theatre, but a full 'comprehensive counterforce strike' that attempts to completely disarm Pakistan of its nuclear weapons so that India does not have to engage in iterative tit-for-tat exchanges and expose its own cities to nuclear destruction," he said. 
Relations between India and Pakistan have been at their lowest following a series of terror attacks on Indian Army installations carried out by militants from across the border. 
Following the terror attack on an Army base in Uri which left 19 Indian soldiers dead, India carried out surgical strikes against terror launch pads in Pakistan-occupied Kashmir killing around 40 terrorists. 
To back his theory, Narang cited recent remarks and policy prescriptions from leading Indian strategists and a book by Shivshankar Menon, who supervised nuclear targeting for India as National Security Adviser (NSA) to Prime Minister Manmohan Singh. 
Narang also quoted Menon saying that "India's nuclear doctrine has far greater flexibility than it gets credit for". 
He further quoted a para from Menon's book "Choices: Inside the Making of Indian Foreign Policy" to support his theory. 
"There is a potential gray area as to when India would use nuclear weapons first against another NWS (nuclear weapon state). Circumstances are conceivable in which India might find it useful to strike first, for instance, against an NWS that had declared it would certainly use its weapons, and if India were certain that adversary's launch was imminent," read the para. 
In 2003, India had declared its no-first use strike policy, undertaking not to start a nuclear was with Pakistan and its all-weather ally China, countries that have already fought wars with India. 
But it set aside some exceptions, gray areas, such as reserving the right to strike first if it came under biological or chemical attack.