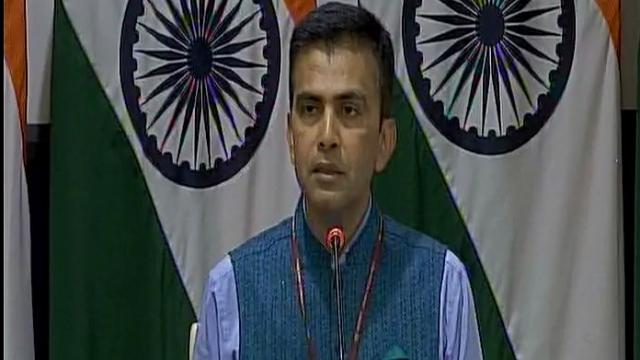 Strongly objecting to Pakistan Prime Minister Imran Khan's remarks on civilians' deaths during violence in Jammu and Kashmir last week, India on Thursday said that it was an expression of Pakistan's "insincerity and duplicity."
Taking to media persons, Ministry of External Affairs (MEA) spokesperson Raveesh Kumar said that Pakistan will do better to mind its own business and focus on its "messy" internal affairs. 
"The statements coming out from their side demonstrate their insincerity and duplicity," said External Affairs Ministry spokesperson Raveesh Kumar.
Following the death of seven civilians during clashes with security forces in Jammu and Kashmir's Pulwama district on Saturday, Khan tweeted the next day: "Strongly condemn killing of innocent Kashmiri civilians in Pulwama IOK by Indian security forces. Only dialogue & not violence & killings will resolve this conflict. We will raise issue of India's human rights violations in IOK & demand UNSC fulfil its J&K plebiscite commitment."
In his briefing, Kumar reiterated India's demand that Pakistan stop allowing its territory to be used by terror groups and terrorists and exporting terrorism to other countries. 
"No action is being taken on that," he said. 
"On the other hand, they have sometimes the gumption to comment on the internal affairs of a neighbouring country. I think it will be better if their mind their own business and look at their internal affairs which are in a mess," the spokesman said.
(With IANS inputs)