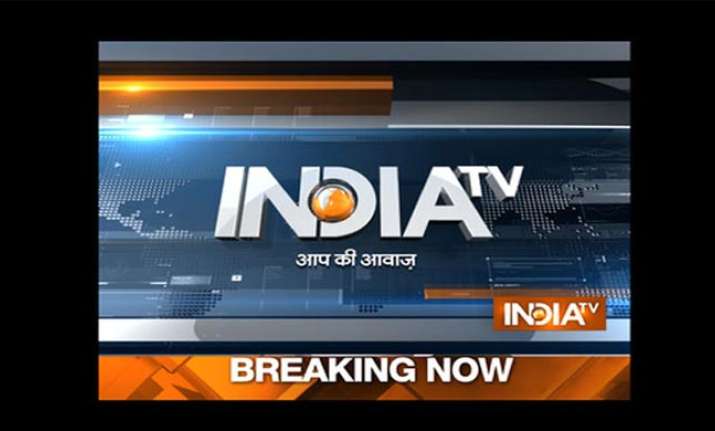 National News
Pakistan must walk away from terror if it wants peace talks with India: PM Modi at Raisina Dialogue
Addressing 69 nations participating in the flagship geo-political conference "Raisina Dialogue", Prime Minister Narendra Modi today told Pakistan that it needs to walk the path of peace along with India.
UP polls: Shivpal's name missing in Mulayam's list of 38 candidates handed to Akhilesh Yadav
A day after the Election Commission ruled in favour of Uttar Pradesh Chief Minister Akhilesh Yadav in his claim for Samajwadi Party's symbol, the party chief met party patriarch and father Mulayam Singh Yadav today at the latter's residence amid expectations of a climbdown from the senior Yadav.
UP polls: Congress confirms alliance with SP; likely to contest 95-105 seats
With the Election Commission recognising the faction led by CM Akhilesh Yadav as the Samajwadi Party, the alliance talks between the Uttar Pradesh's ruling party and Congress have gained momentum.
My wife protected Jayalalithaa for 30 years, why can't my family join politics, asks Sasikala's husband
Former Tamil Nadu Chief Minister Jayalalthaa's close companion and AIADMK general secretary Sasikala's husband M Natarajan has asserted that there is nothing wrong in his family getting involved in politics.
Jayalalithaa's niece J. Deepa set for political debut, mulls joining AIADMK
Late Tamil Nadu Chief Minister J. Jayalalithaa's niece J. Deepa today announced her decision to enter politics even as she confessed of being in two minds over joining AIADMK, that was ruled by her aunt, or floating a new party.
Sheena Bora murder case: Prime accused Indrani wants to divorce husband Peter Mukerjea
Indrani Mukerjea, a prime accused in the murder of daughter Sheena Bora, on Tuesday informed a special Central Bureau of Investigation (CBI) court in Mumbai that she wants to divorce husband and former media baron Peter Mukerjea and sought permission to file the case.
International News
Trade war has no winners, says Chinese president at World Economic Forum
Chinese President Xi Jinping is pressing his case for free trade, arguing that economic globalization has powered worldwide growth and improved the lives of millions of people.
Istanbul nightclub attacker who killed 39 arrested
Turkey police have arrested the man accused of carrying out a deadly attack on an Istanbul nightclub during New Year's celebrations, killing 39 people including 25 foreigners (two Indians).
More diplomats waiting to defect to Seoul, claims elite North Korea defector
The former North Korean Deputy Ambassador to London Thae Yong-ho has said that more high-level North Korean diplomats are waiting to defect to South Korea from their overseas posts in Europe.
Business News
Apple to seek tax sops for its manufacturing unit in India, to meet govt officials next week
A team of the US-based iPhone maker Apple will next week meet a group of senior government officials in India and present them company's case for seeking tax benefits and other exemptions to set up manufacturing facilities in the country.
Volkswagen to provide 40,000 new energy cars to China by 2020
German automaker Volkswagen plans to provide more than 400,000 new energy cars for the Chinese market by 2020, the company said on Tuesday.
'Note ban' can do little to stop flow of black money in future, says ASSOCHAM  
The Associated Chambers of Commerce and Industry of India (ASSOCHAM) believes that 'demonetisation' cannot eliminate the ill-gotten wealth converted into assets such as gold and real estate although it may wipe out the present stock of black money held in cash from the economy.
Entertainment News
'Jaanus' Aditya-Shraddha, Deepika-Vin's scorching chemistry, fail to generate heat at box-office
Aditya Roy Kapur and Shraddha Kapoor starrer 'Ok Jaanu' released last Friday. Despite being one of the much anticipated movies of the year, the film had an average opening with Rs 4.08 cr. It was expected that the film will witness growth in weekends but nothing as such happened.
New bad man in town: Ronit Roy looks promising in this new Kaabil dialogue promo
The much awaited Hrithik Roshan-Yami Gautam starrer Kaabil will soon hit the theatres on 25th January 2017.  With much buzz around the movie, a new dialogue promo featuring Hrithik Roshan and Ronit Roy has been released yesterday, and has successfully grabbed a number of eye balls.
'Roothe Baarati': Ahead of Mona's marriage in 'Bigg Boss', Manu gets upset
The controversial TV reality show 'Bigg Boss 10' will soon celebrate the marriage of contestant Mona lisa with her long time boyfriend Vikrant Singh. As every wedding is incomplete without an upset guest, 'Bigg boss' house also has someone who is not happy with Monalisa's beau and he is none other than Manu Punjabi.
Sports News
Gautam Gambhir bats for Dangal girl Zaira, says 'episode smells of sexual bias'
Kashmiri actress Zaira Wasim, who played young Geeta Phogat in the Aamir Khan-starrer 'Dangal', faced ire on social media for meeting Jammu & Kashmir Chief Minister Mehbooba Mufti, who called her a "Kashmiri role model".
Australian Open 2017: Serena Williams progresses to 2nd round, Andy Murray wins first match
Six-time Australian Open champion Serena Williams progressed to the second round of the Australian Open 2017 with a straight-set win over Swiss teenager Belinda Bencic on Tuesday.
#PakistanKaBhootBanaya: Sehwag takes to Twitter to remind arch rivals of 254-run knock in 2006
Virender Sehwag may have bid adieu to cricket but his witty tweets continue to make headlines every other day. And this time, his target was the Pakistani cricket team.