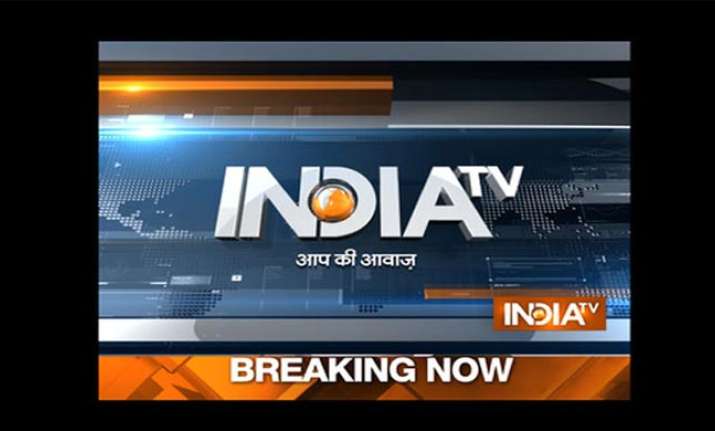 National News
Mamata seeks President's intervention in ousting Modi, wants 'national govt' under LK Advani
Escalating her fight against the central government for the demonetisation move to a personal one, West Bengal Chief Minister Mamata Banerjee today sought President Pranab Mukherjee's intervention to 'save the country from Prime Minister Narendra Modi'.
Post China's 'surprise move', India exploring other options to get Azhar listed as global terrorist
With China persistent in thwarting all attempts to get Pakistan-based JeM Chief Masood Azhar listed as a global terrorist by the United Nations, India has now begun discussions with several member countries of the UN Security Council and is exploring various options on the issue.
SC refuses urgent hearing on plea to put off Union Budget
The Supreme Court today refused an urgent hearing on a plea seeking that the Union Budget for 2017-18 be deferred till April in view of the schedule of Assembly elections in five states.
NIA files chargesheet against Bahadur Ali, claims he was working for Lashkar
The National Investigation Agency (NIA) has filed a charge sheet against Pakistani national Bahadur Ali, who was arrested in Kashmir in July last year, on allegations that he was working for terror outfit Lashkar-e-Taiba (LeT) and was planning to carry out attacks at several places including Delhi.
42 pc rise in farmer suicides in 2015, Maharashtra tops the chart again: NCRB
The farmers suicide cases in India saw a sharp rise of over 40 pc with number of deaths increasing from 5,650 in 2014 to 8,007 in 2015, says a report released by the National Crime Records Bureau (NCRB).
International News
China bars Tibetans from attending Dalai Lama event in India, calls it a political tool
Thousands of Tibetan pilgrims who flocked to India to attend a religious event held by Dalai Lama have returned to China under pressure from Beijing,  according to reports from Nepal and China.
Russia begins partial pullout of military forces from Syria
Russia today announced that it has begun a planned reduction of its military presence in war-torn Syria.
Under scrutiny over conflict of interest, Trump dumps projects in Pune, Buenos Aires
With questions being raised about conflict of interest between his presidency and business, President-elect Donald Trump has cancelled his association with realty projects in several countries including one in India.
Business News
Government lowers GDP forecast to 7.1 per cent for current fiscal, lowest in 3 years
The government today lowered the GDP forecast for the current fiscal to 7.1 per cent as compared to 7.6 per cent.
Cancel Aircel's 2G licence if Maxis owners don't appear in two weeks: Supreme Court
The Supreme Court has proposed to seize and transfer the 2G licence granted to Aircel to some other entity if the owner of Maxis, Malaysia-based Anantha Krishnan, does not appear in court within two weeks.
IT stocks slump over H-1B visa concerns, top 4 companies lose over Rs 22,000 cr in market valuation
A day after the introduction of a bill recommending key changes in the H-1B Visa programme in the US Congress, Indian IT stocks fell as much as four per cent today. The top four IT companies -- TCS, Infosys, Wipro and HCL Tech -- together lost over Rs 22,000 crore in market valuation.
Entertainment News
Veteran actor Om Puri dies of heart attack; PM Modi, Bollywood condole his death
Actor Om Puri passed away after suffering a cardiac arrest on Friday morning.
Sunil Grover's 'Coffee With D' gets a release date, will hit screens on Jan. 20
Sunil Grover's 'Coffee With D' came in the middle of the controversy for several reasons. The release date of the flick was postponed without revealing the real reason behind it. Now, a poster of the flick is released informing about the new date.
SRK or Hrithik,which 'Kaabil' star will become 'Raees' this month?
The tussle between Shah Rukh Kahn's 'Raees' and Hrithik Roshan's 'Kaabil' doesn't seem to end soon. After the announcement of the clash, the romantic songs of both the movies were also released together.
Sports News
Virat Kohli appointed Indian captain for T20s, ODIs; Yuvraj makes comeback in both formats
India's star batsman Virat Kohli was today handed the reigns of India's ODI and T20 International cricket sides after 35-year-old Mahendra Singh Dhoni stepped down as the limited overs side captain earlier this week.
17-year-old Prithvi Shaw's century on first-class debut puts him in league with Sachin and Rahane
A 17-year-old debutant displayed maturity beyond his years on the field and anchored a fabulous fourth innings with a debut hundred, as Mumbai into the final of the 2016-17 Ranji Trophy after defeating Tamil Nadu by six wickets in the semi-final here on Thursday.
Tendulkar, Gavaskar lead world cricket to pay tributes to Dhoni
Indian legends Sachin Tendulkar and Sunil Gavaskar led the world of cricket in paying tributes to Mahendra Singh Dhoni after "Captain Cool" quit as the One-day International (ODI) and T20 skipper.