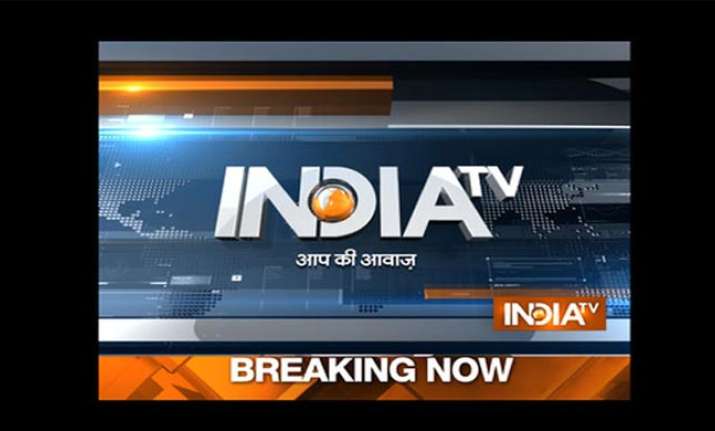 National News
Cyclone Vardah makes landfall in Chennai, 2 people dead; flight operations suspended till 9 pm
Cyclone Vardah makes a landfall in Tamil Nadu. Thousands of people from coastal areas of Tamil Nadu and Andhra praesh have been evacuated and taken to safe places.
Fog cripples Railways, 26 trains cancelled for a month from Dec 17. Details here
A move that may add to the woes of rail passengers already reeling under heavy delays due to severe fog conditions, the Indian Railways on Sunday announced that 26 trains which have been running extremely late due to heavy fog in northern India will be cancelled once a week for a month from December 17 to January 15 in order to restore their punctuality.
Modi a 'tyrant' who caused havoc in every house: Owaisi targets PM on demonetisation
In some harsh criticism of Prime Minister Narendra Modi over demonetisation, AIMIM chief Asaduddin Owaisi on Monday referred to him as "a tyrant" who caused havoc in every house just to satisfy his ego.
Government plans to ease up abortion laws for single women: Report
In a major footstep to make it easier for single women to safely and legally terminate unwanted pregnancies, the health ministry has recommended recognising "failure of contraceptive" and "unplanned pregnancy" as legitimate reasons for abortion among all women, married or single.
'Could have dragged Mamata Banerjee and thrown her out': BJP's Bengal chief shoots mouth again
West Bengal's ruling Trinamool Congress on Monday slammed BJP state president Dilip Ghosh for allegedly using "abusive" remarks against Chief Minister Mamata Banerjee.
International News
No change in stance on Masood Azhar, India's NSG membership: China
In a development that signals no headway in India's diplomatic efforts to get China's backing for NSG membership bid and getting JeM chief Masood Azhar designated as terrorist by the UN, Beijing today said that its stand on the two key issues "remains unchanged".
In major army reshuffle, Pakistan appoints Lt Gen Naveed Mukhtar as new ISI chief
Lt Gen Naveed Mukhtar has been appointed chief of Pakistan's powerful spy agency ISI as part of the first major reshuffle in the military's top brass after new army chief Gen Qamar Javed Bajwa took over the reins last month.
Bill English elected to replace New Zealand PM John Key
Bill English, New Zealand's finance minister and a former farmer, will be sworn in as the country's 39th prime minister on Monday after his colleagues in the Parliament chose him as their new leader.
Business News
Sting operations across 500 bank branches on PM Modi's directives, FM to take stock
In a move that may sound trouble for corrupt banking officials aiding the conversion of black money into white, multiple sting operations carried out in around 500 bank branches under the direction of Prime Minister Narendra Modi to nab erring officials.
Tax dodgers may get another chance to come clean, govt may offer window this week
A bill that provides for 50 per cent taxes and surcharge on declarations of unaccounted cash deposited in banks is likely to be notified this week, giving tax dodgers another opportunity to come clean.
Centre plans to accelerate Rs 60,000-crore worth 'Make in India' FICV project
The Ministry of Defence has finally decided to speed-up the long-pending mega 'Make in India' project to produce at least 2,610 future infantry combat vehicles (FICVs) for the Army at an estimated cost of about Rs 60,000 crore.
Entertainment News
'Befikre' box-office collection: Ranveer-Vaani starrer mints Rs 34.36 crore in first weekend
The much-awaited flick 'Befikre' that marked the comeback of Aditya Chopra released this Friday. The film had a decent opening and fetched Rs. 10.36 crore on its first day. However, contrary to expectations of collections growing over the weekend, nothing as such happened.
'Dangal' on the 'Koffee' couch: Aamir to showcase 'hidden talent' on chat show
Superstar Aamir Khan worked up a sweat to get the right physique for his upcoming film 'Dangal'. His hard work was visible from the trailer of the flick.
'The Fate of the Furious' trailer out: Get ready for some more action, car chases
The brand new trailer of the upcoming eighth franchise of 'The Fast and the furious' was released recently and it has a new name, 'The Fate of the Furious'. As expected, the trailer was full of stylish cars, tough fights and amazing performance of Vin Diesel and Dwayne Johnson. The trailer was nostalgic as it reminds of Paul Walker's absence from it.
Sports News
India beat England by innings and 36 runs to clinch series 3-0, Ashwin bags 12 wickets
A dominant India today completed formalities by crushing England in the fourth cricket Test by a whopping innings and 36 runs margin to take clinch the five-Test series 3-0.
Series win over England 'sweetest' among all recent wins: Virat Kohli
Delighted with the series win over the Alastair Cook-led side, Indian skipper Virat Kohli described his team's emphatic win over England as one of the "sweetest" in recent times.