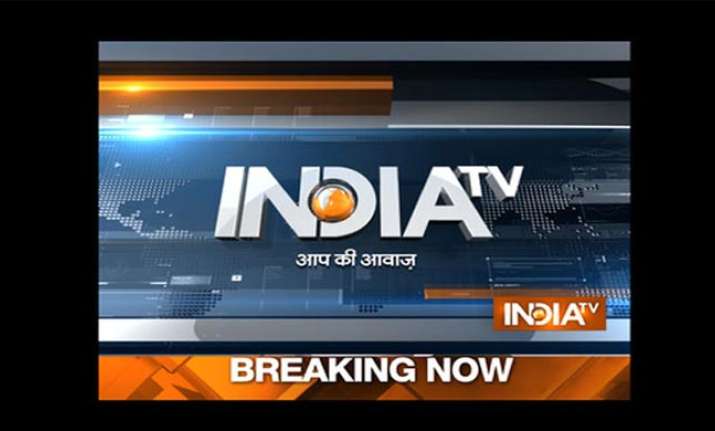 National News
Amid political turmoil President's Rule imposed in Uttarakhand
Amid political turmoil in Uttarakhand, the Central government today imposed of President's Rule in the hilly state. Read more
Pathankot attack: Pak JIT arrives in Delhi, will get limited access to IAF base
A five-member team of Pakistani investigators today arrived here to carry forward the probe into the brazen Pathankot Air Base attack, blamed on Pakistan based Jaish-e-Mohammad (JeM) militants. Read more
No bank defaulter will be spared, warns PM Modi
Warning that no bank defaulter will be spared, Prime Minister Narendra Modi today accused Congress of helping the rich usurp people's money and claimed his government has "tightened the screws" on the "looters". Read more
Hyderabad, JNU were ultra-Left movements with a small section of Jehadis: Arun Jaitley
Both the Hyderabad Central University (HCU) and Jawaharlal Nehru University (JNU) events were "ultra-Left movements" also involving a small section of "jihadis". Read more
Rawat govt was unconstitutional: Jaitley
Even as Congress cried foul, Government today justified imposition of President's Rule in Uttarakhand, saying the Harish Rawat government was "unconstitutional" and "immoral" since March 18 when the "failed" Appropriation Bill was shown as passed.
International News
Backed by Russia, Syria forces retake Palmyra in major victory over ISIS
Backed by Russian forces, Syrian troops recaptured the famed ancient city of Palmyra from the Islamic State militant group today in a major victory over the jihadists. Read more
Bernie Sanders defeats Hillary Clinton in Alaska, Washington caucuses
Senator Bernie Sanders has won the Democratic presidential caucuses in Alaska and Washington, slightly narrowing party's front-runner Hillary Clinton's significant delegate lead in the race to the White House. Read more
China's industrial profits rose 4.8 percent  in 2 months
Despite concerns over economic slowdown in the world's second largest economy, China's industrial profits rose 4.8 per cent year on year in the first two months of 2016, reversing last year's downward trend, according to official data released today.
Business News
Govt not to coerce Vodafone, Cairn on retro tax case: FM
The government will not "coerce" companies like Vodafone Group and Cairn Energy to avail of its one-time offer to settle their retrospective tax cases and it was for them to take a call on it, Finance Minister Arun Jaitley said today.The option before such companies was either to accept the offer of paying principal tax amount and get waiver from interest and penalty, or continue litigation, he said during an interaction with journalists at the PTI office here.
Govt to walk extra mile to see jewellers are not harassed: FM
As the jewellers' strike against levy of excise duty entered fourth week, Indian Finance Minister Arun Jaitley on Sunday offered to walk the extra mile to ensure that small traders were not harassed but made it plain that luxury items cannot go untaxed.
Entertainment News
Kareena Kapoor speaks up on Hrithik-Kangana controversy
Every time a controversy breaks up in the tinselvile, it takes over all the headlines and gossips. Read more
 
I have a knack of choosing wrong people: Ranaut
Taking a swipe at her former boyfriend Hrithik Roshan and their controversial legal tussle, actress Kangana Ranaut on Saturday said she does not understand why people have to approach lawyers to resolve the differences in their relationship.Kangana and Hrithik have been embroiled in a nasty spat since the former called her "Krrish 3" co-star "a silly ex", prompting the 42-year-old star to slap her with a legal notice asking her to apologise and clear the air about their affair which he firmly refutes.
Kim Kardashian releases Easter-themed kimojis
Reality TV star Kim Kardashian has updated her Kimoji range with Easter-themed emoticons.The 35-year-old "Keeping Up with The Kardashians" beauty announced the new range of text messaging emoticons on Thursday night, March 24, and wished her 64.7 million Instagram followers "Happy Easter" ahead of Easter Weekend, reported Female First.
Sports News
World T20: India can beat Australia again, says Virat Kohli
India's batting star Virat Kohli on Saturday said it was difficult to be consistent in the shortest format and the two tight wins against Pakistan and Bangladesh. Read more
World T20: Australia win toss, India to bowl first in knock-out berth clash
Australia won the toss and elected to bat first against fierce rivals India in the virtual quarterfinal match of the ICC World Twenty20 2016 at Punjab Cricket Association Stadium, Mohali. Read more